Robinson Crusoe Written Anew for Children

by James Baldwin

Adaptation of the story of Robinson Crusoe for children. Relates how the shipwrecked sailor makes a new life for himself on the island, crafting shelter, food, and clothing for himself from the few tools he rescued from the ship and what he is able to find on the island. Living on the island for over twenty years before he is finally rescued, he reinvents almost everything necessary for daily sustenance. Ages 7-9

182 pages

$9.95
I MAKE ME A CALENDAR
[58] IT was now just one year since I was cast upon this lonely island.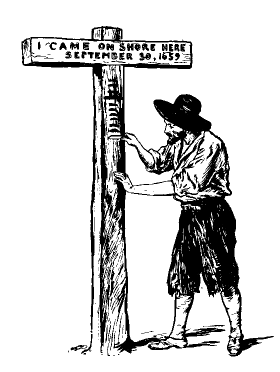 Do you wonder how I have kept an account of the time? I will tell you.
A few days after the ship wreck it came into my mind that I should lose track of the days and the seasons. For I had neither almanac nor notebook. It would be hard always to remember the days of the week and I might even forget when it was Sunday.
So I set up a large post by my door. At the top of this post I cut in large letters these words:
I CAME ON SHORE HERE
SEPTEMBER 30, 1659.
Every morning I cut a little notch on the side of the post under these words.
Every seventh notch was twice as long as the rest, and this showed me that the day was Sunday.
[59] Every thirtieth notch was longer still and broader. This showed me that a full month had gone by.
It was thus I made my calendar.
One morning I found, on counting up, that there were three hundred and sixty-five notches on the post. I knew, therefore, that it was just one year since my landing.
I kept this day as a solemn fast.
I sat in my castle and thought of the goodness of God in thus keeping me alive and safe in the midst of so many perils
I humbled myself, and thanked him for his many mercies.
For twelve hours I tasted nothing. When, at last, the sun went down, I ate a biscuit and a bunch of grapes and went to bed.
Having now been on the island a whole year, I had learned that the seasons there were not the same as in England.
They were not to be spoken of as spring, summer, autumn, and winter. They were rather to be called the wet season and the dry season. Indeed, there were two wet seasons and two dry seasons, in the year.
| | | |
| --- | --- | --- |
| | Hundreds of additional titles available for online reading when you join Gateway to the Classics | |