Robinson Crusoe Written Anew for Children

by James Baldwin

Adaptation of the story of Robinson Crusoe for children. Relates how the shipwrecked sailor makes a new life for himself on the island, crafting shelter, food, and clothing for himself from the few tools he rescued from the ship and what he is able to find on the island. Living on the island for over twenty years before he is finally rescued, he reinvents almost everything necessary for daily sustenance. Ages 7-9

182 pages

$9.95
I MAKE A LONG JOURNEY
[64] I HAD long wished to see the whole of my island. So, one fine morning, I set out to travel across to the other side of it.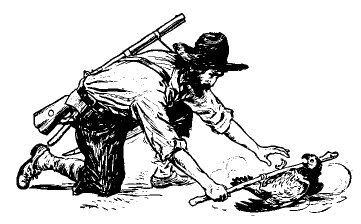 Of course I carried my gun with me. In my belt was my best hatchet. In my pouch I had plenty of powder and shot. In my pocket were two biscuits and a big bunch of raisins. My dog followed behind me.
I went past my summer house, or bower, and toward evening came to a fine open place close by the sea.
It was a beautiful sight. The sky was clear, the air was still. The smooth waters stretched away and away toward the setting sun.
Far in the distance I could see land. I could not tell whether it was an island or some part of the mainland of America. It was at least fifty miles away.
If it were the mainland, I felt quite sure that I would at some time or other see a ship sailing [65] hither to it or from it. If it were an island, there might be savages on it whom it would not be safe for me to meet. But it would do no good to worry my mind about such matters.
I found this side of the island much more beautiful than that where my castle was.
Here were large, open fields, green with grass and sweet with flowers. Here, too, were fine woods, with many strange trees and vines.
I saw many green parrots among the trees, and I thought how I would catch one and teach it to talk.
After a great deal of trouble I knocked a young one down with my stick. He was a good fighter, and it was no easy matter to get him. But at last I picked him up and put him in my bag.
He was not hurt, and I carried him home. It was a long time before I could make him talk. But at last he became a great pet and would call me by my name. I shall have a funny story to tell about him after a while.
Besides parrots there were many other birds in the woods. Some of these were of kinds that I had never seen before.
In the low grounds I saw some animals that looked like rabbits. There were others that I took [66] to be foxes, but they were not such foxes as we have in England.
I traveled very slowly around the island, for I wished to see everything. Often I did not go more than two miles in a day.
At night I sometimes slept in a tree, while my dog watched below me. Sometimes I shut myself up in a little pen made by driving tall stakes into the ground. I felt quite safe, for nothing could come near me without waking me.
Along the seashore there were thousands of turtles and a great plenty of waterfowl.
I had no trouble to find all the food I needed. Sometimes I had a roast pigeon for dinner, sometimes the juicy meat of a turtle, sometimes that of a goat. No king could have fared better.
One day my dog caught a young kid. I ran and got hold of it, and would not let him hurt it.
I had a great mind to take it home with me. So I made a collar for it, and led it along by a string which I had in my pocket.
It was quite wild and did not lead well. It gave me so much trouble that I took it to my summer house and left it there.
I then went home to my castle.
| | | |
| --- | --- | --- |
| | Hundreds of additional titles available for online reading when you join Gateway to the Classics | |