Robinson Crusoe Written Anew for Children

by James Baldwin

Adaptation of the story of Robinson Crusoe for children. Relates how the shipwrecked sailor makes a new life for himself on the island, crafting shelter, food, and clothing for himself from the few tools he rescued from the ship and what he is able to find on the island. Living on the island for over twenty years before he is finally rescued, he reinvents almost everything necessary for daily sustenance. Ages 7-9

182 pages

$9.95
I FIND A GREAT STORE OF THINGS
[39] THE next day I went to the ship again. This I kept up for more than a week.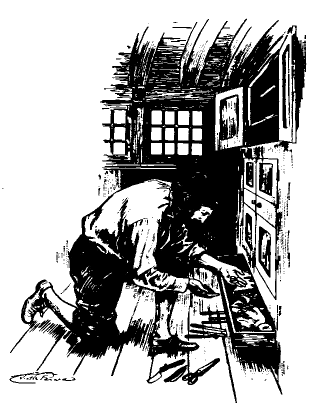 Every day I brought a load of things to the shore.
At last there was nothing left that one pair of hands could lift. But I do believe that if the fine days had held out, I would have brought away the whole ship.
You ask how I would have done that? I would have cut it into pieces and brought one piece at a time.
The last thing that I found was a secret drawer in the cabin. In that drawer there was some money.
A part of this money was in gold pieces—"pieces of eight," we called them. The rest was in silver.
[40] I smiled to myself when I saw this money.
"O useless stuff!" I cried. '"What are you good for now? You are not worth picking up. This little old knife is worth much more. I have no manner of use for you. Lie there, where you are, and go to the bottom."
I was about to leave the cabin when I looked around again. The bright pieces were so pretty that I could not bear to leave them.
So I put them all in a strong bag and tied it around my waist like a belt.
"It will not do to throw good money away," I said.
When I went up on deck the wind was blowing hard. Dark clouds were beginning to cover the sky. The waves were rolling high. A storm was coming.
I saw that it was time for me to hurry back to the shore.
I let myself down into the water and began to swim. The sea was rough. The money was heavy. It was all I could do to reach the land.
I hastened home to my little tent. The storm had already begun.
| | | |
| --- | --- | --- |
| | Hundreds of additional titles available for online reading when you join Gateway to the Classics | |