Robinson Crusoe Written Anew for Children

by James Baldwin

Adaptation of the story of Robinson Crusoe for children. Relates how the shipwrecked sailor makes a new life for himself on the island, crafting shelter, food, and clothing for himself from the few tools he rescued from the ship and what he is able to find on the island. Living on the island for over twenty years before he is finally rescued, he reinvents almost everything necessary for daily sustenance. Ages 7-9

182 pages

$9.95
I MAKE AN UMBRELLA
[82] AS the years went by the things which I had brought from the ship were used up or worn out.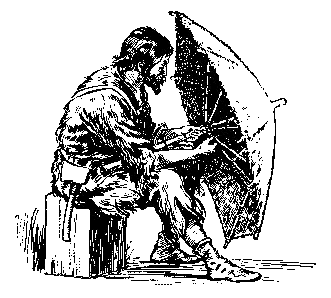 My biscuits lasted more than a year; for I ate only one cake each day.
My ink soon gave out, and then I had no more use for pens or paper.
At last my clothes were all worn out.
The weather was always warm on my island and there was little need for clothes. But I could not go without them.
It so happened that I had saved the skins of all the animals I had killed.
I stretched every skin on a framework of sticks. and hung it up in the sun to dry.
In time I had a great many of these skins. Some were coarse and stiff and fit for nothing. Others were soft to the touch and very pretty to look at.
One day I took one of the finest and made me [83] a cap of it. I left all the hair on the outside, so as to shoot off the rain.
It was not very pretty; but it was of great use, and what more did I want?
I did so well with the cap that I thought I would try something else. So, after a great deal of trouble, I made me a whole suit.
I made me a waistcoat and a pair of knee breeches. I wanted them to keep me cool rather than warm. So I made them quite loose.
You would have laughed to see them. They were funny things, I tell you. But when I went out in the rain, they kept me dry.
This, I think, put me in mind of an umbrella.
I had seen umbrellas in Brazil, although they were not yet common in England. They were of much use in the summer when the sun shone hot.
I thought that if they were good in Brazil, they would be still better here, where the sun was much hotter.
So I set about the making of one.
I took great pains with it, and it was a long time before it pleased me at all.
I could make it spread, but it did not let down. [84] And what would be the use of an umbrella that could not be folded?
I do not know how many weeks I spent at this work. It was play work rather than anything else, and I picked it up only at odd times.
At last I had an umbrella that opened and shut just as an umbrella should.
I covered it with skins, with the hair on the outside. In the rain it was as good as a shed. In the sun it made a pleasant shade.
I could now go out in all kinds of weather. I need not care whether the rain fell or the sun shone.
For the next five years I lived very quietly. I kept always busy and did not allow myself to feel lonely.
I divided each day into parts according to my several duties.
After reading in my Bible, it was my custom to spend about three hours every morning in search of food. Through the heat of the day, I busied myself in the shade of my castle or bower.
In the evening, when the sun was low, I worked in my fields. But sometimes I went to work very early in the morning and left my hunting until the afternoon.
| | | |
| --- | --- | --- |
| | Hundreds of additional titles available for online reading when you join Gateway to the Classics | |