The Object of the Commission

THE OBJECT OF THE COMMISSION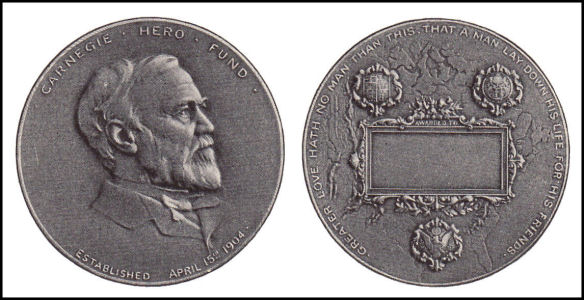 [289] THERE are heroes in every walk of life. Every day sees the performance of some golden deed; but too often the doers of such deeds remain unknown, and their unselfish acts of heroism are suffered to be forgotten. Should not some means be devised by which these heroes of peace may be duly recognized, and those who are dependent upon them properly provided for?
Such were the thoughts which actuated Andrew [290] Carnegie when, on the fifteenth of April, 1904, he established and endowed the Hero Fund commission. Mr. Carnegie's gift of five million dollars was placed in the hands of a commission of twenty-one persons, whose duty it is "to discover and reward true heroism wherever it occurs"; but the doing of daring deeds for the purpose of saving life is to be especially recognized. Medals of bronze, silver, and gold were devised to be awarded to all who are deemed worthy; and for the doers of very notable and unselfish acts additional rewards are given. In case of death, those dependent upon the hero are to be duly provided for.
About two years after the establishment of this commission, a report was made. In this report the names were given of sixty-three persons, men and women, boys and girls, whose heroism was deserving of reward and recognition. Any book of Golden Deeds would be incomplete without repeating a few of the stories of unselfish daring which were thus made public. The half-dozen examples which are presented in the following pages are fairly typical of the numerous acts of heroism which were brought to the notice of the commissioners.
| | | |
| --- | --- | --- |
| | Hundreds of additional titles available for online reading when you join Gateway to the Classics | |