Table of Contents
The Swallow and the Other Birds
The Bow
The Lion and the Gnat
The Bees
The Oak and the Vine
The Nightingale and the Peacock
The Raven and the Dove
The Fox, the Raven, and the Dove—Part I
The Fox, the Raven, and the Dove—Part II
The Fox, the Raven, and the Dove—Part III
The Fowls and the Bees
The Mice and the Trap
The Crows and the Windmill
The Elephant
The Fox and the Goose
The Ant and the Glowworm
The Sun and the Little Plant
The Pansy
The Man and the Rain
The Bee and the Beetle
The Rain Cloud
Little Lights
The Two Lizards
The Glowworm and the Diamond
The Dewdrop
The Monkey and the Camel
The Rabbits and the Dogs
The Wise Snake
The Wallflower and the Thyme
The Squirrel and the Leopard
The Mimic and the Countryman
The Cat and the Hen
Perseverance
The Horse and the Stag
The Little Mouse's Mistake
The Cock and the Diamond
The Snake and the Hedgehog
The Travelers and the Bear
The Hedge and the Vineyard
The Donkey, the Cock and the Lion
The Wild Boar and the Fox

THE EAGLE AND THE CROW
A CROW once saw an eagle carry a little lamb away to her nest.
"That is an easy way to get food," [70] thought the crow. "I shall steal a lamb myself."
Down from her tree she flew and pounced on a lamb. To her surprise she found it was too heavy for her to carry away.
"I must leave it and fly home without any supper," she thought.
But that was easier said than done. For when she tried to fly away, she found that her feet were caught in the lamb's wool.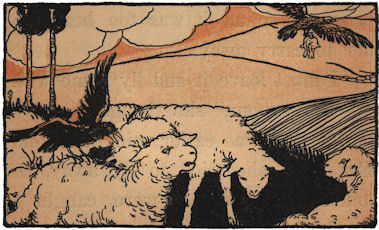 While she was struggling to get away, the farmer saw her. He caught her and took her home to his children.
[71] "What kind of a bird is this?" asked the children.
The farmer laughed and said: "A little while ago, she thought she was an eagle. Now, I think, she knows she is nothing but a crow. If she had always kept this in mind, she would now be free."
| | | |
| --- | --- | --- |
| | Hundreds of additional titles available for online reading when you join Gateway to the Classics | |