The Burgess Animal Book for Children

by Thornton Burgess

To answer Peter Rabbit's questions about his relatives, Old Mother Nature holds a school for the animals every day at sun-up for a month. Encouraging the animals to notice the differences between them and to offer their observa-tions of animal behavior, Old Mother Nature helps them all gain a greater understanding of the mammals of North America. Starting with the animals close to home, the school moves in ever-widening circles to encompass the animals of the far west and the extreme north, as well. A fine introduction to mammals for students in the primary grades. Ages 6-9

365 pages

$13.95
CHATTERER AND HAPPY JACK JOIN
[27] PETER RABBIT, on his way to school to Old Mother Nature, was trying to make up his mind about which of his neighbors he would ask. He had learned so many surprising things about his own family that he shrewdly suspected many equally surprising things were to be learned about his neighbors. But there were so many neighbors he couldn't decide which one to ask about first.
But that matter was settled for him, and in a funny way. Hardly had he reached the edge of the Green Forest when he was hailed by a sharp voice. "Hello, Peter Rabbit!" said this sharp voice. "Where are you bound at this hour of the morning? You ought to be heading for home in the dear Old Briar-patch."
Peter knew that voice the instant he heard it. It was the voice of Happy Jack the Gray Squirrel. Happy Jack was seated on the top of an old stump, eating a nut. "I'm going to school," replied Peter with a great deal of dignity.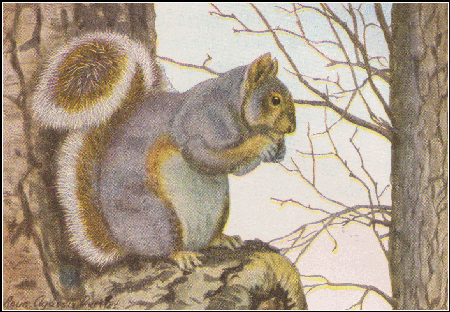 No one knows better than he the value of thrift.
[28] "Going to school! Ho, ho, ho! Going to school!" exclaimed Happy Jack. "Pray tell me to whom you are going to school, and what for?"
"I'm going to school to Old Mother Nature," retorted Peter. "I've been going for several days, and so has my cousin, Jumper the Hare. We've learned a lot about our own family and now we are going to learn about the other little people of the Green Forest and the Green Meadows."
"Pooh!" exclaimed Happy Jack. "Pooh! I know all about my own family, and I guess there isn't much worth knowing about my neighbors that I don't know."
"Is that so, Mr. Know-it-all," retorted Peter. "I don't believe you even know all your own cousins. I thought I knew all mine, but I found I didn't."
"What are you fellows talking about?" asked another voice, a sharp scolding voice, and Chatterer the Red Squirrel jumped from one tree to another just above Peter's head.
"Peter is trying to make me believe that I don't know as much as I might about our own family," snapped Happy Jack indignantly. "He is on his way to school to Old Mother Nature and has advised me to join him. Isn't that a joke?"
"Maybe it is, and maybe it isn't," retorted [29] Chatterer, who isn't the best of friends with his cousin, Happy Jack. "If I don't know as much about the Squirrel family as you do, may I never find another nut as long as I live. But at that, I'm not sure I know all there is to know. I think it would be fun to go to school for a while. What do you say, Peter, if I go along with you?"
Peter said that he thought it would be a very fine thing and that Chatterer never would regret it. Chatterer winked at his cousin, Happy Jack, and followed Peter, only of course, Chatterer kept in the trees while Peter was on the ground. Happy Jack hesitated a minute and then, curiosity becoming too much for him, he hastened after the others.
"Hello!" exclaimed Old Mother Nature, as Happy Jack and Chatterer appeared with Peter Rabbit. "What are you frisky folks doing over here?"
Happy Jack and Chatterer appeared to have lost their tongues, something very unusual for them, especially for Chatterer. The fact is, in the presence of Old Mother Nature they felt bashful. Peter replied for them. "They've decided to come to school, too," said he. "Happy Jack says he knows all about his own family, but he has come along to find out if he really does."
"It won't take us long to find out," said Old [30] Mother Nature softly and her eyes twinkled with amusement. "How many cousins have you, Happy Jack?"
Happy Jack thought for a moment. "Three," he replied, but he didn't say it in a very positive way. Peter chuckled to himself, for he knew that already doubt was beginning to grow in Happy Jack's mind.
"Name them," commanded Old Mother Nature promptly.
"Chatterer the Red Squirrel, Timmy the Flying Squirrel, and Striped Chipmunk," replied Happy Jack.
"He's forgotten Rusty the Fox Squirrel," shouted Chatterer, dancing about gleefully.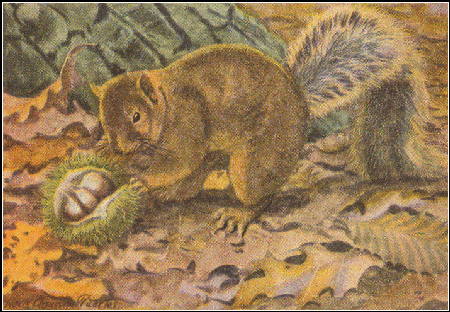 His coat varies from red to gray.
Happy Jack looked crestfallen and gave Chatterer an angry look.
"That's right, Chatterer," said Old Mother Nature. "Rusty is a very important member of the Squirrel family. Now suppose you name the others."
"Wha—wha—what others?" stammered Chatterer. "I don't know of any others."
Peter Rabbit hugged himself with glee as he watched the faces of Happy Jack and Chatterer. "They don't know any more about their family than we did about ours," he whispered in one of the long ears of Jumper the Hare.
[31] As for Old Mother Nature, she smiled indulgently. "Put on your thinking-caps, you two," said she. "You haven't named half of them. You are not wholly to blame for that, for some of them you never have seen, but there is one member of the Squirrel family whom both of you know very well, yet whom neither of you named. Put on your thinking-caps."
Chatterer looked at Happy Jack, and Happy Jack looked at Chatterer, and each scratched his head. Each wanted to be the first to think of that other cousin, for each was jealous of the other. But though they scratched and scratched their heads, they couldn't think who that other cousin could be. Old Mother Nature waited a few minutes before she told them. Then, seeing that either they couldn't remember or didn't know, she said, "You didn't mention Johnny Chuck."
"Johnny Chuck!" exclaimed Chatterer and Happy Jack together, and the look of surprise on their faces was funny to see. For that matter, the looks on the faces of Peter Rabbit and Jumper the Hare were equally funny.
Old Mother Nature nodded. "Johnny Chuck," she repeated. "He is a member of the Squirrel family. He belongs to the Marmot branch, but he is a Squirrel just the same. He is one of your cousins."
[32] "He's a mighty funny looking Squirrel," said Chatterer, jerking his tail as only he can.
"That just shows your ignorance, Chatterer," replied Old Mother Nature rather sharply. "I'm surprised at the ignorance of you two." She looked first at Chatterer, than at Happy Jack. "It is high time you came to school to me for a while. You've got a lot to learn. For that matter, so have Peter and Jumper. Now which of you can tell me what order you all belong to?"
Happy Jack looked at Chatterer, Chatterer looked at Peter Rabbit, and Peter looked at Jumper the Hare. On the face of each was such a funny, puzzled expression that Old Mother Nature almost laughed right out. Finally Peter Rabbit found his tongue. "If you please," said he, "I guess we don't know what you mean by an order."
"I thought as much," said Old Mother Nature. "I thought as much. In the first place, the animals of the Great World are divided into big groups or divisions, and then these groups are divided into smaller groups, and these in turn into still smaller groups. Happy Jack and Chatterer belong to a group called the Squirrel family, and Peter and Jumper to a group called the Hare family. Both of these families and several other families belong to a bigger group called an order, and this order is the order of Gnawers, or Rodents."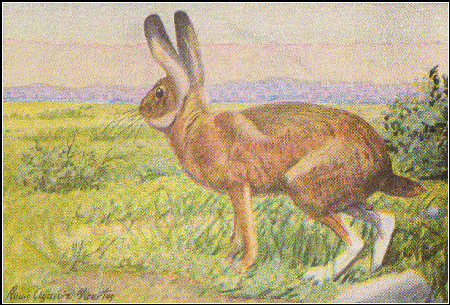 His long legs and long ears show him to be a Hare, not a Rabbit.
[33] Peter Rabbit fairly jumped up in the air, he was so excited. "Then Jumper and I must be related to Happy Jack and Chatterer," he cried.
"In a way you are," replied Old Mother Nature. "It isn't a very close relationship, still you are related. All of you are Rodents. So are all the members of the Rat and Mouse family, the Beaver family, the Porcupine family, the Pocket Gopher family, the Pika family, and the Sewellel family."
By this time Peter's eyes looked as if they would pop right out of his head. "This is the first time I've ever heard of some of those families," said he. "My, what a lot we have to learn! Is it because all the members of all those families have teeth for gnawing that they are all sort of related?"
Old Mother Nature looked pleased. "Peter," said she, "I think you ought to go to the head of the class. That is just why. All the members of all the families I have named belong to the same order, the order of Rodents. All the members have big, cutting, front teeth. Animals without such teeth cannot gnaw. Now, as you and Jumper have learned about your family, it is the turn of Happy Jack and Chatterer to learn about their family. Theirs is rather a large family, and it is divided into three groups, the first of which consists of the true Squirrels, to which group both [34] Happy Jack and Chatterer belong. The second group consists of the Marmots, and Johnny Chuck belongs to this. The third group Timmy the Flying Squirrel has all to himself."
"Where does Striped Chipmunk come in?" asked Chatterer.
"I'm coming to that," replied Old Mother Nature. "The true Squirrels are divided into the Tree Squirrels, Rock Squirrels, and Ground Squirrels. Of course Chatterer and Happy Jack are Tree Squirrels."
"And Striped Chipmunk is a Ground Squirrel," interrupted Peter, looking as if he felt very much pleased with his own smartness.
Old Mother Nature shook her head. "You are wrong this time, Peter," said she, and Peter looked as foolish as he felt. "Striped Chipmunk is a Rock Squirrel. Seek Seek the Spermophile who lives on the plains of the West and is often called Gopher Squirrel, is the true Ground Squirrel. Now I can't spend any more time with you little folks this morning, because I've too much to do. To-morrow morning I shall expect Chatterer to tell me all about Happy Jack, and Happy Jack to tell me all about Chatterer. Now scamper along, all of you, and think over what you have learned this morning."
So Peter and Jumper and Chatterer and Happy [35] Jack thanked Old Mother Nature for what she had told them and scampered away. Peter headed straight for the far corner of the Old Orchard where he was sure he would find Johnny Chuck. He couldn't get there fast enough, for he wanted to be the first to tell Johnny Chuck that he was a Squirrel. You see he didn't believe that Johnny knew it.
| | | |
| --- | --- | --- |
| | Hundreds of additional titles available for online reading when you join Gateway to the Classics | |