BOSWORTH FIELD
RICHARD was not happy on the throne which he had bought at so dreadful a price. He made a progress through England to show himself to his new subjects, whom he tried to attract by the splendid show which he made. At York he was crowned for a second time by the Archbishop of York, which is the Northern Province, as he had been crowned at Westminster by the Archbishop of Canterbury. But the people murmured against him. They could not forgive the crime which by this time few doubted that he had committed. When the crown was again put upon his head, they said that this was done because the poor lads had been murdered since his first crowning, and he now felt himself to be really King.
And then he knew that there were those who were ready to do more than murmur. Chief of these was the Duke of Buckingham. This man had been ready [82] enough to help in pulling down the kindred of the Woodvilles, whom the late King had so much favoured, but he was not prepared for all that Richard seemed ready to do. He had carried the King's train at the coronation at Westminster, but he had done this only under compulsion. He had been unwilling to come to the ceremony, and had sent word to Richard that he was sick. When the King replied that if he was not well enough to walk he should be carried, he saw that there was no help for it, and came. After the coronation he left London with the King, and rode with him as far as Gloucester. There they parted, Richard going on to the north, the Duke journeying towards Wales. He was already thinking of turning against his master.
On his way he met Margaret, Countess of Richmond, widow of the eldest son of Owen Tudor and Queen Katharine, and heiress of the Beauforts. The Countess Margaret had a son Henry, who seemed the most likely person to set up against Richard. He had, it is true, no real claim to the crown, but then he might marry Elizabeth, King Edward's eldest daughter, and would have his wife's right to depend upon. This, we shall see afterwards, he actually did.
Another enemy of Richard's with whom the Duke of Buckingham took counsel was that Bishop of Ely of whom I wrote something in the last chapter. The [83] Duke had him in his charge, having been told to find a prison for him in Wales. Richard would willingly have put him to death, but to kill a bishop without any very grave cause, and no such cause could be found against the Bishop of Ely, would have been a very dangerous thing. The Duke had had some thoughts of claiming the throne for himself, for he too, as has been said, was of the blood royal. But [84] then he would not be able to win over to himself those who still held by the House of Lancaster. And as he had already had a wife (a sister of Edward IV.'s Queen) he could not strengthen his claim, as Henry could, by marrying Elizabeth of York. On the whole, therefore, he was inclined to favour Henry. Still he hesitated, till at last the Bishop of Ely, who was afraid that his plans might be betrayed to King Richard, found an opportunity of escaping, and made his way to France.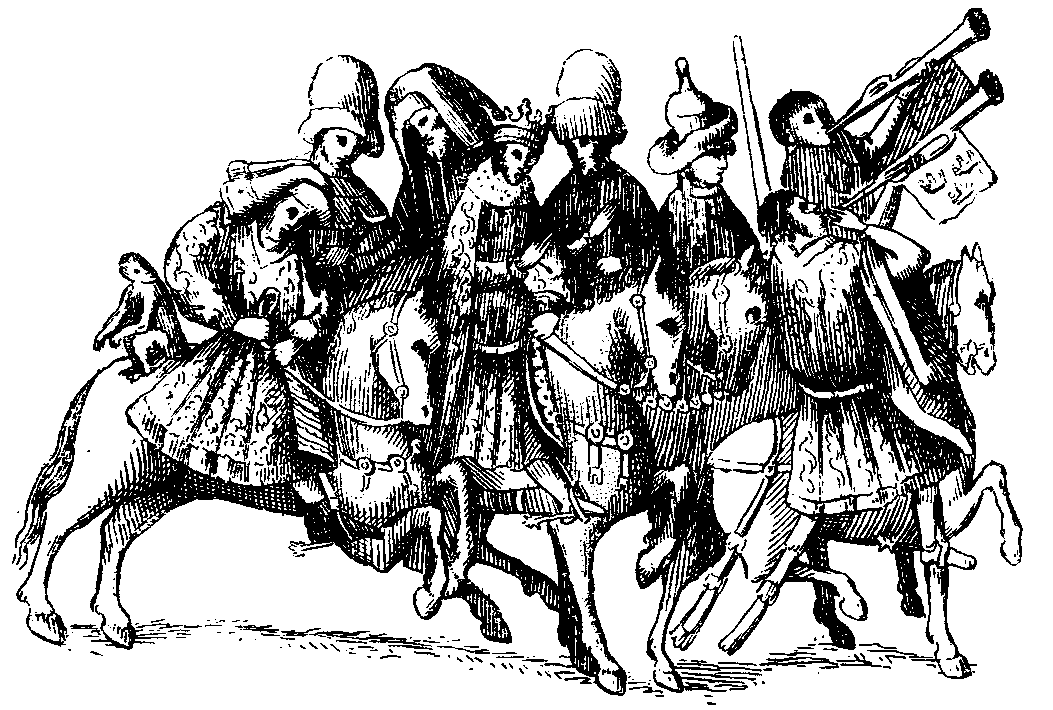 P

ROCLAMATION

OF

THE

K

ING

.
Richard by this time had heard that some plot was being hatched against him. He sent a message to Buckingham, commanding him to come to London. The Duke had now no choice. To obey was to throw away his life, for Richard, he was sure, knew enough to condemn him. He had therefore openly to take up arms, though he was very far from being ready. He sent messengers to the two Tudors, Henry and his uncle Jasper, urging them to come over at once to England with all the men that they could collect and join him. He himself marched towards England. But everything went against him. The people with whom he wanted to make friends would not trust him. He found the roads guarded and the bridges broken down. When he would have crossed the Severn to join a force that had been raised in Devonshire, that river rose in such a flood [85] —long afterwards remembered as "Buckingham's Flood"—that he had to give up the idea. He had got as far as Gloucester, but he had to fall back into Herefordshire. Henry Tudor had come with a small fleet to the coast of Devonshire, but finding no one to welcome him, had sailed back to France. Buckingham's insurrection had altogether failed. He sought shelter with an old friend at Shrewsbury. But the friend, alarmed for his own life, or tempted, it may be, by the reward of £4000 which the King had offered for Buckingham's capture, betrayed him. He was taken in a wood, disguised in poor clothing, and carried to Salisbury, where the King then was. He asked leave to plead his cause, but Richard would not hear or see him, and he was beheaded.
He had sent away his little son to another friend, who kept his faith better. The boy was taken, dressed up as a little girl, from one place to another, and at last lodged with a widow lady at Hereford, who kept him safely till the tyrant was dead.
Buckingham's rebellion happened in the late autumn of 1483. In the April of the next year, on the very day on which Edward IV. had died, Richard lost his only son, Edward, Prince of Wales, after a very short illness. Less than a year afterwards his wife, Anne, daughter of the King-maker, died, after as unhappy a life as woman ever had. There was some [86] talk after her death of the King marrying his own niece Elizabeth. The Pope of Rome had granted leave—or dispensation, as it was called—for such marriages to take place. But the King denied that he had any such intention. He named the Earl of Warwick, son of his brother, the Duke of Clarence, heir to the throne, and when it became clear that the poor lad was of weak mind, another nephew, the son of his sister Elizabeth and her husband, John de la Pole, who had the title of Earl of Lincoln.
But I must make haste and finish my story. On August 11, 1485, Henry of Richmond landed at Milford Haven. He did not bring with him, as he had once hoped to do, some French soldiers. He came in a single ship with a few nobles of the Lancastrian party, chief of whom was John de Vere, Earl of Oxford, and some of those of the other party who did not like the doings of King Richard. The Welsh received him with great joy, not because he had any right to the crown, for this he had not, but because he was a countryman of their own, and they hoped for his favour if he should come to be King. Richard had not at first thought that the danger was serious, but when he saw that Henry had many friends in England, and especially when he found that Sir William Stanley, who was very powerful in North Wales, made an excuse for not joining him, he began [87] to bestir himself. He marched northward to Leicester, which he reached on August 20. The next day he went on towards Bosworth. The battle was fought on a great plain near that town, called Bosworth Field, otherwise Redmoor. Henry, who had been joined by the Talbots and other great families in the Midlands, had taken up his position on the east of this plain. He had not half as many men as Richard, but he trusted that Stanley, who was close at hand with a large force, and held himself ready to join either party, would be on his side. He had hopes, too, that other friends of the King would leave him when the battle once began.
Shakespeare has described how Richard spent the night before the battle, seeming to see in his dreams the ghosts of those whom he had slain, King Henry, the two young Princes, and Buckingham, his last victim, among them. But he did not forget his duty as a general. It is said that, making the round of the camp at midnight, he found a sentinel asleep at his post and killed him. The next morning he set his line of battle in order, with his archers in the middle, and near them a number of cannon. He was much stronger than his adversary, and if only his followers had been faithful to him, could hardly have failed to win the battle. Bad man as he was, he was a good general and a brave warrior. He put on the armour [88] which he had worn at Tewkesbury, the last great battle which had settled his family on the throne. Round his helmet he wore, as Henry V. had done at Agincourt, a crown of gold.
Henry made the first movement. The Earl of Oxford charged that part of the line where the Duke of Norfolk was in command. And now the Duke found out how true was the warning which, as the story goes, he had received the night before—
"Jockey of Norfolk, be not so bold, For Dickon thy master is bought and sold."
It was so; the Duke of Northumberland—the Percies, it will be remembered, were old friends of the House of Lancaster—who was in command of the second line, would not move forward to help the first. Richard himself now charged, bent especially on slaying the Earl of Richmond himself. If his great rival could be put out of the way, all might be well. But now the Stanleys, who had up to this time stood apart, saw that it was time to act. They advanced with their force of three thousand men, and Richard's followers saw that they had changed sides and were going to attack them. One of them pointed out to the King what was about to happen, and bade him mount his horse and fly. If he saved himself that day, he might live to fight again. Richard refused to escape. "Not a foot will I fly so long as I live. I will die King of England," [89] he said. Furiously did he fight till he was overborne by numbers, and fell dead to the ground. Among his followers that perished with him was the Brackenbury that had been Constable of the Tower when the young Princes came by their end. For a time the pursuit was hot, and as many as a thousand men are said to have been slain in it. But Henry did not forget that he was now King of England, and called back his soldiers as soon as he could from the slaughter of their countrymen. The crown that Richard had worn was found hanging on a hawthorn bush. A knight brought it to Henry where he stood with Lord Oxford and others of his party. Lord Stanley set it on his head, and the army all over the field of battle shouted, "God save King Harry!"
The body of Richard was found covered with wounds, thrown across a horse, and carried into Leicester, where it was buried by the sisters of a nunnery there. So ended the long War of the Roses.
A curious story is told, which may be taken to show how the ill-gotten gold of the usurping King brought a curse with it long afterwards. He had slept at an inn in Leicester, and had brought his bedstead with him. More than a hundred years afterwards it was found that this bedstead had a double bottom, and that this was filled with gold [90] coins. The landlady of the inn was murdered by her servants, who thus got possession of the treasure.
| | | |
| --- | --- | --- |
| | Hundreds of additional titles available for online reading when you join Gateway to the Classics | |