CADIZ
[81] WHEN Drake returned to England, it was to hear the news of the "Babington plot." This was a plot to assassinate Elizabeth, and to place Mary of Scotland on the throne. In 1587 Mary was beheaded. In Philip's eyes the time had at last become ripe for an invasion of England. Now that Mary was dead, there was less danger of France and Scotland joining forces. And Philip, as a descendant of John of Gaunt, could put in a claim that the throne of England, at the death of Elizabeth, should come to himself or his daughter.
The Armada was getting ready to sail in the summer. In April, however, Drake was sent out again with a small fleet His flag-ship was again the Elizabeth Bonaventure. His second in command was William Borough.
[82] His orders were "to prevent the joining together of the King of Spain's fleet out of their different ports. To keep victuals from them. To follow them in case they should come out towards England or Ireland. To cut off as many of them as he could, and prevent their landing. To set upon the West Indian ships as they came or went."
But no sooner was he instructed than the Queen changed her bold orders to milder ones. He was not to enter any port by force, nor to offer violence to any towns, or ships in harbour. But Drake had got away to sea without the second orders, and acted on the first.
He had heard that the ships were gathering in Cadiz harbour, and there he decided boldly to seek for them. The outer and inner harbours of Cadiz were crowded with shipping, most of which was getting ready for the invasion of England. Drake's fleet sailed in, routed the defending galleys, and made havoc among the ships, about thirty-seven of which were captured, burnt, or sunk. One was a large ship belonging to the Marquis of Santa Cruz. They carried away four ships laden with [83] wine, oil, biscuits, and dried fruit; "departing thence," as Drake says, "at our pleasure, with as much honour as we could wish." They were chased by Spanish galleys, which did little harm, for the wind favoured the English as they sailed away from Cadiz.
The Spaniards thought Drake had gone to stop the treasure fleet. But Drake wished to stop the Armada, which was a much greater affair. He knew now that Santa Cruz was making his headquarters at Lisbon. Ships were gathering in the north of Spain. Recalde, one of the best Spanish commanders, was waiting with a small fleet off Cape St. Vincent, to protect the treasure fleet when it arrived. Fifteen big ships had escaped the attack in Cadiz harbour. The ships were to meet in Lisbon, where Santa Cruz was collecting stores and food.
Recalde succeeded in escaping Drake, and took his ships safely into Lisbon. Drake resolved to secure the station he had left. This was the castle of Sagres, near Cape St. Vincent. His own officers were staggered with the boldness of his plan, and Borough solemnly protested. He had urged [84] caution before Cadiz harbour; again he pleaded for a council of war. He was of an older school of seamen than Drake, and was horrified at the ways of the man who was born, as it has been said, "to break rules."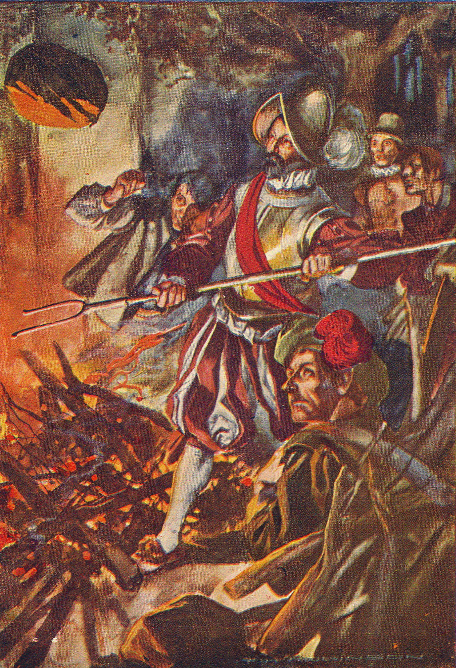 D

RAKE

AT

THE

TAKING

OF

S

AGRES

C

ASTLE

.
Drake was most indignant at his action, and put him under arrest, while Borough expected daily that "the Admiral would have executed upon me his bloodthirsty desire, as he did upon Doughty."
After reading the accounts of Drake in the stories of the different voyages, we can understand how his men adored his spirit, and flocked to his ship to serve under his flag. To them there was something magical, and to the Spaniards, something uncanny, in his luck. The English called him "Fortune's child," and the Spanish called him "the Devil." But some of the officers who served with him must have liked him less. He made his plans swiftly, and generally well; but the doing of them had to be swift and sure. Like many great men he knew he was right, but could not stop to reason or argue about his course. He acted upon the instinct of his genius, with a sure and shining faith [85] in himself, which must have been hateful to smaller men. In the days of his later voyages, when he had not the undivided control of his expedition, he failed, as he never did when he was alone, "with the ships not pestered with soldiers," as he once said.
The taking of the castle of Sagres seemed almost an impossibility, so well did the rocks and steep cliffs defend the fort. Drake himself commanded the attack on land, and in the end helped to carry and pile the faggots against the castle gate. The commander was slain, and then the fort surrendered. Thus Drake took possession of one of the best places on the coast of Spain for ships to anchor and get water.
Meanwhile, the rest of the fleet had taken and burnt fifty ships laden with wood and hoops of seasoned wood, for which Santa Cruz was waiting to make his water-casks. The loss of these did much damage to the Armada, and helped to ruin it.
On the 20th of May, having disarmed the fort of Sagres by throwing the big guns over the cliffs into the sea, Drake brought his fleet to anchor is Cascaes Bay, south [86] of Lisbon. He seems to have judged Lisbon too strong to attack from the sea. He was prepared to "distress the ships" had they come out; and he offered battle to Santa Cruz, who, however, was short of powder and shot, and had no ships ready as yet for action.
So Drake went back to Sagres to clean his ships and refresh his men. He then sailed for the Azores. A storm parted the ships, and on the few that were left the men were anxious to go home. The ship on which Borough was still a prisoner deserted. Drake believed that Borough was responsible for this; and, though he was beyond reach, in his anger Drake sentenced him, with his chief officers, to death as mutineers.
Drake went on with his nine remaining ships, and came upon a splendid prize, the big San Felipe, the greatest ship in all Portugal, richly laden with spice, china, silk, and chests of gold and jewels. This prize was valued at nearly a million pounds; and, besides, she carried secret papers of great value concerning the East India trade.
On the 26th of June, Drake returned home after his brilliant campaign. Santa [87] Cruz had indeed gone out to chase him, but it was too late.
Borough was not found guilty by the court of law where Drake accused him; but his grief of mind endured long. Some time after, he wrote that "he was very fain to ease it as he might, hoping in good time he should."
| | | |
| --- | --- | --- |
| | Hundreds of additional titles available for online reading when you join Gateway to the Classics | |