The Story Book of Science

by Jean Henri Fabre

The wonders of plant and animal life told with rare literary charm by Uncle Paul in conversations with three children. Besides such stories as the ants' subterranean city, the spider's suspension bridge, and the caterpillars' processing, he unlocks the mystery behind thunder and lightning, clouds and rain, the year and its seasons, and volcanoes and earthquakes. Ages 9-12

432 pages

$14.95
Front Matter
---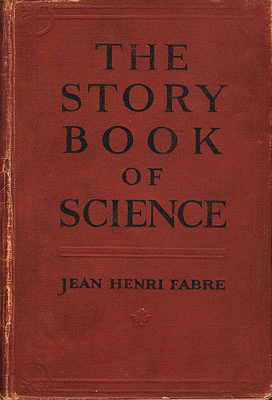 ---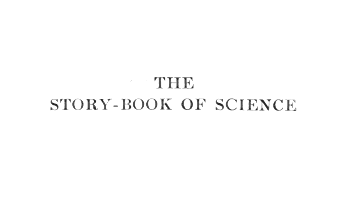 ---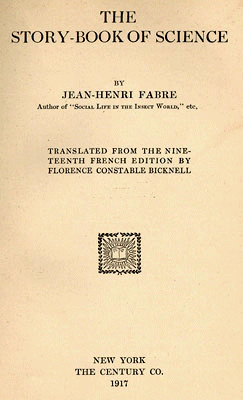 ---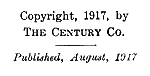 ---
---
---
---
TRANSLATOR'S PREFACE
Of the increasing success and widening popularity of the elementary science series written chiefly in the seclusion of Sérignan by the gifted French naturalist who was destined to give that obscure hamlet a distinction hardly inferior to the renown enjoyed by Maillane since the days of Mistral, it is unnecessary at this late date to say more than a word in passing. The extraordinary vividness and animation of his style amply justified his early belief in the possibility of making the truths of science more fascinating to young readers, and to all readers, than the fabrications of fiction. As Dr. Legros has said in his biography of Fabre, "He was indeed convinced that even in early childhood it was possible for both boys and girls to learn and to love many subjects which had hitherto never been proposed; and in particular that Natural History which to him was a book in which all the world might read, but that university methods had reduced to a tedious and useless study in which the letter 'killed the life.' "
The young in heart and the pure in heart of whatever age will find themselves drawn to this incomparable story-teller, this reverent revealer of the awe-inspiring secrets of nature, this "Homer of the insects." The identity of the "Uncle Paul," who in this book and others of the series plays the story-teller's part, is not hard to guess; and the young people who gather about him to listen to his true stories from wood and field, from brook and hilltop, from distant ocean and adjacent millpond, are, without doubt, the author's own children, in whose companionship he delighted and whose education he conducted with wise solicitude.
In his unselfish eagerness to see the truths of natural science brought within the comprehension and the enjoyment of all, Fabre would have been the first to wish for a wide circulation for his own books in many countries and many languages; and thus, though it is now too late to obtain his authorization of these translations, one cannot regard it as a wrong to his memory to do what may lie in one's power to spread the knowledge he has so wisely and wittily, with such insight and ingenuity, imparted to those of his own country and tongue.
It remains to add that in the following pages the somewhat stiff dialogue form of the original has given place to the more attractive and flexible narrative style, with as little violence as possible to the author's text.
---
| | | |
| --- | --- | --- |
| | Hundreds of additional titles available for online reading when you join Gateway to the Classics | |