The Story of the Greeks

by Helene A. Guerber

Elementary history of Greece, made up principally of stories about persons, giving at the same time a clear idea of the most important events in the ancient world and calculated to enforce the lessons of perseverance, courage, patriotism, and virtue that are taught by the noble lives described. Beginning with the legends of Jason, Theseus, and events surrounding the Trojan War, the narrative moves on to present the contrasting city-states of Sparta and Athens, the war against Persia, their conflicts with each other, the feats of Alexander the Great, and annexation by Rome. Ages 10-14

365 pages

$13.95
DIVISION IN SPARTA
WHILE the Achæan League was doing its best to restore Greece to its former power, Sparta had remained inactive. The Spartans had changed greatly since the days of Lycurgus. They no longer obeyed his wise laws, and, instead of being brave and frugal, they were greedy, lazy, and wicked.
One of their kings was named Leonidas; but he was [271] in no way like his great namesake, the king who had fallen at Thermopylæ. Indeed, he married an Eastern wife, and to please her assumed all the pomp and led the idle life of an Eastern king.
His fellow-king, on the other hand, was such a miser that he heaped up great treasures. When he died, his wife and mother were said to have more gold than the city and people together. The miser king was succeeded by his son, but this young man's sole ambition was to restore Sparta to its former condition.
His name was Agis. He lived like the Spartans of old, practiced all the virtues of his ancestors, and was frugal and brave in the extreme. To restore Sparta, real Spartans were needed, but, in counting them over, Agis found that there were only about seven hundred of the old stock left. The first move was to restore equality. For that purpose, all the money and land would have to be equally divided, so Agis began by persuading his own mother and grandmother to give up their wealth. Leonidas did not like the plan of equality, and soon openly opposed it, although his son-in-law Cleombrotus sided with Agis, and upheld it.
But the people were eager for the new division which would make them all equal as of old; and they were so angry with Leonidas for his resistance, that they rose up against him, and proposed to depose him by reviving an old law which forbade the ruling of a king who married a foreign wife.
Leonidas had time to flee to the Temple of Athene; and when the ephors called him to appear before them, he refused to do so, because he feared for his life. As [273] such a refusal was a crime, the ephors said he should not reign any longer, and named Cleombrotus king in his stead.
Leonidas, who had led a selfish, pleasure-loving life, was now forsaken by every one except his daughter, Chilonis, who gave up her husband and the throne in order to console her unfortunate father. She kept him company in the temple, cared for him and amused him, and, when her husband begged her to come back, she answered that her place was rather with her unhappy father than with her prosperous husband.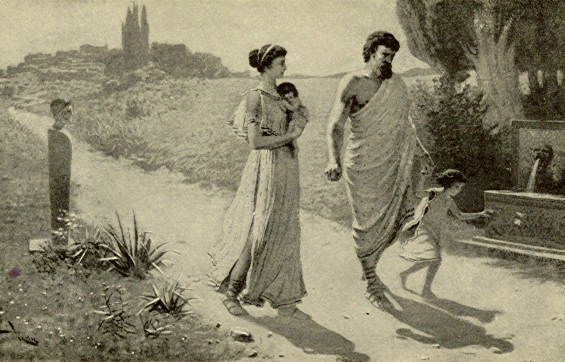 Cleombrotus and Chilonis.
When it became known that the Spartans were plotting to kill the unhappy Leonidas, Agis helped him to escape, and Chilonis followed him into exile.
The Ætolian League, which just then was very strong, now sent an army across the isthmus to attack the Spartans. The latter sallied forth under the leadership of Agis, who proved such a skillful general, that he not only won a great victory, but also drove the Ætolians out of the peninsula.
During the absence of Agis, many of the richest Spartans who had not yet given up their property refused to do so, and when urged by Cleombrotus to obey, they revolted against him, and recalled Leonidas.
Cleombrotus had only time to take refuge in the same temple where his father-in-law had once found shelter. Here he was soon joined by his wife, Chilonis, who, ever faithful to the most unhappy, came thither to comfort him.
Leonidas was so angry that he would probably have treated Cleombrotus with the utmost severity, had not [274] Chilonis fallen at his feet and begged him to spare her husband's life. Her tears touched her father, and he granted the favor she asked, declaring, however, that Cleombrotus should go into exile.
In spite of her father's entreaties to remain with him, Chilonis insisted upon accompanying her husband. She gave Cleombrotus one of their two children, clasped the other to her breast, and left the city, proudly walking at her husband's side.
| | | |
| --- | --- | --- |
| | Hundreds of additional titles available for online reading when you join Gateway to the Classics | |