The Story of the Greeks

by Helene A. Guerber

Elementary history of Greece, made up principally of stories about persons, giving at the same time a clear idea of the most important events in the ancient world and calculated to enforce the lessons of perseverance, courage, patriotism, and virtue that are taught by the noble lives described. Beginning with the legends of Jason, Theseus, and events surrounding the Trojan War, the narrative moves on to present the contrasting city-states of Sparta and Athens, the war against Persia, their conflicts with each other, the feats of Alexander the Great, and annexation by Rome. Ages 10-14

365 pages

$13.95
THE GORDIAN KNOT
ALEXANDER did not stop long in Caria. Marching onward, he soon came to the city of Gordium, in Phrygia, where Midas had once reigned. In one of the temples the people proudly showed Alexander the cart in which this king rode as he entered their city.
The yoke was fastened to the pole by a rope tied in a peculiar and very intricate knot. Now, it seems that an ancient prophecy had declared that whoever untied the Gordian knot would surely be master of all Asia.
Of course, as Alexander had set his heart upon conquering the whole world, he looked at this knot with great interest; but a few moments' careful examination made him feel sure that he would not be able to untie it.
Rather than give it up, however, Alexander drew his sword, and cut it with a single quick stroke. Ever since then, when a person has settled a difficulty by bold or [240] violent means instead of patiently solving it, the custom has been to say that he has "cut the Gordian knot," in memory of this feat of Alexander's.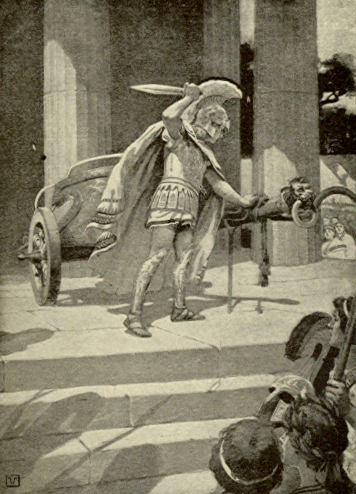 Alexander cutting the Gordian Knot.
From Gordium, Alexander next passed on to Tarsus, which also became subject to him; and shortly after that the young conqueror nearly lost his life.
He had been exposed to the hot sun, and had thus become terribly overheated, when he came to the river Cydnus. This stream was a torrent whose waters were very cold, but, in spite of all that his attendants could say, Alexander insisted upon taking a bath in it.
The sudden chill brought on a cramp, and he would have drowned had not some of his people plunged into the water, and pulled him out. As it was, his imprudence brought on a serious illness, and for a short time Alexander's life was in great danger.
His physician, however, was Philip, a Greek doctor, who had attended him ever since he was born, and who now took great care of him. When the fever was at its worst, he said he hoped to save the king by means of a strong medicine which he was going to prepare.
Just after Philip went out to brew this potion, Alexander received a letter which warned him to beware of his physician, as the man had been bribed by the Persian king, Darius III., to poison him.
After reading the letter, Alexander slipped it under his pillow, and calmly waited for the return of his doctor. When Philip brought the cup containing the promised remedy, Alexander took it in one hand, and gave him the letter with the other. Then, while Philip was reading it, he drank every drop of the medicine.
[241] When the physician saw the accusation, he turned deadly pale, and looked up at his master, who smilingly handed back the empty cup. Alexander's great trust in his doctor was fully justified; for the medicine cured him, and he was soon able to go on with his conquests.
| | | |
| --- | --- | --- |
| | Hundreds of additional titles available for online reading when you join Gateway to the Classics | |