The Story of the Greeks

by Helene A. Guerber

Elementary history of Greece, made up principally of stories about persons, giving at the same time a clear idea of the most important events in the ancient world and calculated to enforce the lessons of perseverance, courage, patriotism, and virtue that are taught by the noble lives described. Beginning with the legends of Jason, Theseus, and events surrounding the Trojan War, the narrative moves on to present the contrasting city-states of Sparta and Athens, the war against Persia, their conflicts with each other, the feats of Alexander the Great, and annexation by Rome. Ages 10-14

365 pages

$13.95
DEATH OF SOCRATES
THE false accusation made against Socrates by his enemies soon had the desired effect, for the Tribunal gave orders for his arrest and trial. The philosopher, sure of his innocence, came before his judges, and calmly answered their questions.
He told them he had never turned the gods into ridicule, as he knew it was wrong to make fun of anything which others deemed sacred. Then, as they still further [176] pressed him to explain his views, he confessed that he believed there was a God greater and better than any they worshiped.
As to teaching the young men anything which could do them harm, he said it was quite impossible; for he had ever told them that they should be as good, virtuous, and helpful as they could, which was surely not wrong.
Socrates gave noble answers to all their questions; but the judges, blinded with prejudice, believed the lying charges of his enemies, which Socrates scorned to contradict. The philosopher's friends begged him to use his eloquence to defend himself and confound his accusers; but he calmly refused, saying, "My whole life and teaching is the only contradiction, and the best defense I can offer."
Socrates, as you have seen, was really one of the best men that ever lived, and, without having ever heard of the true God, he still believed in him. Nearly four centuries before the coming of Christ, when people believed in revenge, he preached the doctrine of "Love one another" and "Do good to them that hate you."
But, in spite of all his goodness and constant uprightness, Socrates the philosopher was condemned to the shameful death of a base criminal.
Now, in Greece, criminals were forced to drink a cup of a deadly poison at sunset on the day of their condemnation, and there was generally but a few hours' delay between the sentence and its execution. But the law said that during one month in the year no such punishment should be inflicted. This was while an Athenian vessel [177] was away on voyage to the island of Delos to bear the annual offerings to Apollo's shrine.
As Socrates was tried and condemned at this season, the people were forced to await the return of the vessel before they could kill him: so they put him in prison. Here he was chained fast, yet his friends were allowed to visit him and talk with him.
Day after day the small band of his pupils gathered around him in prison; and, as some of them were very rich, they bribed the jailer, and arranged everything for their beloved master's escape.
When the time came, and Socrates was told that he could leave the prison unseen, and be taken to a place of safety, he refused to go, saying that it would be against the law, which he had never yet disobeyed.
In vain his friends and disciples begged him to save his life: he would not consent. Then Crito, one of his pupils, began to weep, in his distress, and exclaimed indignantly, "Master, will you then remain here and die innocent?"
"Of course," replied Socrates, gravely. "Would you rather I should die guilty?"
Then, gathering his disciples around him, he began to talk to them in the most beautiful and solemn way about life and death, and especially about the immortality of the soul.
This last conversation of Socrates was so attentively listened to by his disciple Plato, the wisest among them all, that he afterward wrote it down from memory almost word for word, and thus kept it so that we can still read it.
As the sun was slowly setting on that last day, the [178] sacred vessel came back from Delos. The time of waiting was ended, and now the prisoner must die. The jailer interrupted this beautiful last talk, and entered the cell, bringing the cup of poison.
Socrates took the cup from his hand and drained it, unmoved, telling his disciples that he felt sure that death was only birth into another and better world. Then he bade them all farewell.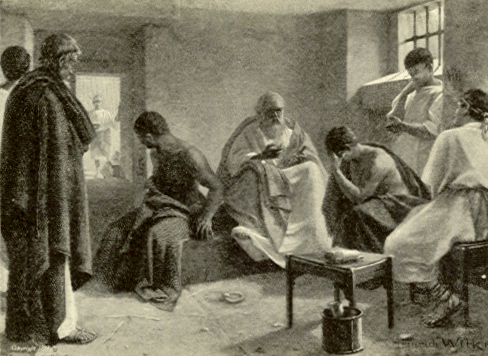 Socrates' Farewell.
As he was a good and scrupulous man, very careful about paying his debts and keeping his promises, he now told Crito to remember that he had promised to sacrifice a cock to Æsculapius, the god of medicine, and bade him do it in his stead.
He then lay down upon his hard prison bed, and while he felt the chill of death slowly creeping upward toward his heart, he continued to teach and exhort his pupils to love virtue and do right.
All his last sayings were carefully treasured by Plato, who wrote them down, and who concludes the story of his death in these beautiful words: "Thus died the man who, of all with whom we are acquainted, was in death the noblest, and in life the wisest and best."
Some time after the death of Socrates, the Athenians found out their mistake. Filled with remorse, they recalled the sentence which had condemned him, but they could not bring him back to life. In token of their sorrow, however, they set up a statue of him in the heart of their city.
This statue, although made of bronze, has long ceased to exist; but the remembrance of Socrates' virtues is still held dear, and all who know his name both love and honor him.
| | | |
| --- | --- | --- |
| | Hundreds of additional titles available for online reading when you join Gateway to the Classics | |