The Story of the Romans

by Helene A. Guerber

Elementary history of Rome, presenting short stories of the great heroes, mythical and historical, from Aeneas and the founding of Rome to the fall of the western empire. Around the famous characters of Rome are graphically grouped the great events with which their names will forever stand connected. Vivid descriptions bring to life the events narrated, making history attractive to the young, and awakening their enthusiasm for further reading and study. Ages 10-14

349 pages

$13.95
HADRIAN'S DEATH
THE emperor Hadrian's chief delight was in building. For instance, he gave orders for the rebuilding of Carthage, and when he visited Egypt he had Pompey's tomb carefully repaired.
In Palestine, Hadrian would have liked to rebuild Jerusalem. The Jews were delighted when they heard this, because the Christians had declared that the city would never rise again. Their joy, however, did not last long, [245] for they and the Romans soon began a terrible quarrel which ended in a war. More than five hundred thousand Jews perished in the struggle, and countless Romans and Christians also were killed.
After making two journeys to visit all the different parts of his empire, Hadrian went back to Rome, where he hoped to end his life in peace among learned men, and in devising new laws and erecting new buildings. He built a palace at Tibur, and a fine tomb on the banks of the Tiber. This tomb was long knows as "Hadrian's Mole," but is now generally called the "Castle of St. Angelo," on account of the statue of the angel Michael which surmounts it.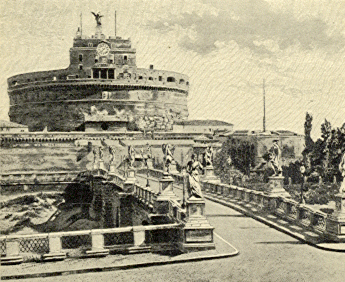 Tomb of Hadrian.
[246] Hadrian, as we have seen, had been gentle and forgiving during the first part of his reign; but he now began to suffer from a disease which soon made him cross and suspicious. He therefore became very cruel, and, forgetting that he had once quite approved of the Christians, he ordered a fourth persecution, in which many were put to death.
To make sure that the Romans would be governed well after his death, Hadrian selected as his successor a very good and wise man named Antoninus. Then, feeling that his sufferings were more than he could bear, he implored his servants to kill him. They all refused, so he sent for many doctors, and took all the medicines they prescribed.
This, of course, somewhat hastened his death; and we are told that he spent the last moments of his life in dictating verses addressed to his soul. These are well known, and perhaps you will some day read them when you learn Latin, the language in which they were written.
Hadrian was buried in the tomb which he had built on the banks of the Tiber; and, when you go to Rome, you will surely visit this building, although it is so old that many changes have been made in it since it was first finished.
| | | |
| --- | --- | --- |
| | Hundreds of additional titles available for online reading when you join Gateway to the Classics | |