The Story of the Romans

by Helene A. Guerber

Elementary history of Rome, presenting short stories of the great heroes, mythical and historical, from Aeneas and the founding of Rome to the fall of the western empire. Around the famous characters of Rome are graphically grouped the great events with which their names will forever stand connected. Vivid descriptions bring to life the events narrated, making history attractive to the young, and awakening their enthusiasm for further reading and study. Ages 10-14

349 pages

$13.95
THE SIEGE OF JERUSALEM
THE new emperor, Vitellius, was not cruel like Tiberius, Caligula, and Nero, nor imbecile like Claudius, nor a victim of his favorites like Galba; but he had a fault that was as disastrous as any. This was gluttony. He is said to have been so greedy that even now, over eighteen hundred years after he died, his name is still used as a byword.
[229] All his thoughts were about eating and drinking. He lived in great luxury at home; but he often invited himself out to dinner, breakfast, or supper, at the house of one of his courtiers, where he expected to be treated to the most exquisite viands.
Such was his love of eating, it is said, that when he had finished one good meal, he would take an emetic, so that he might begin at once on the next; and thus he was able to enjoy four dinners a day instead of one. This disgusting gluttony became so well know that many Romans made up their minds not to obey any longer a man whose habits were those of the meanest animals.
They therefore determined to select as emperor the general Vespasian, who had won many victories during the reigns of Claudius, Nero, Galba, and Otho, and who was now besieging Jerusalem. In obedience to the soldiers' wishes Vespasian left his son Titus to finish the siege, and sent an army toward Rome, which met and defeated the forces of Vitellius.
The greedy emperor cared little for the imperial title, and now offered to give it up, on condition that he should be allowed a sum of money large enough to enable him to end his life in luxury. When this was refused him, he made a feeble effort to defend himself in Rome.
Vespasian's army, however, soon forced its way into the city. Vitellius tried first to flee, and then to hide; but he was soon found and killed by the soldiers, who dragged his body through the streets, and then flung it into the Tiber.
The senate now confirmed the army's choice, and Vespasian became emperor of Rome. Although he had been wild in his youth, Vespasian now gave the best example [230] to his people; for he spent all his time in thinking of their welfare, and in trying to improve Rome. He also began to build the Coliseum, the immense circus whose ruins can still be seen, and where there were seats for more than one hundred thousand spectators.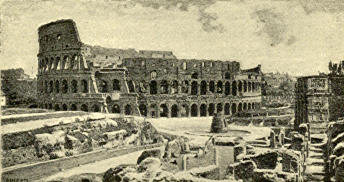 The Coliseum.
While Vespasian was thus occupied at home, his son Titus had taken command of the army which was besieging the city of Jerusalem. As the prophets had foretold, these were terrible times for the Jews. There were famines and earthquakes, and strange signs were seen in the sky.
In spite of all these signs, Titus battered down the heavy walls, scaled the ramparts, and finally took the city, where famine and pestilence now reigned. The Roman soldiers robbed the houses, and then set fire to them. The flames thus started soon reached the beautiful temple built by Herod, and in spite of all that Titus could do to save it, this great building was burned to the ground.
Amid the lamentations of the Jews, the walls of the city [231] were razed and the site plowed; and soon, as Christ had foretold, not one stone remained upon another. Nearly one million Jews are said to have perished during this awful siege, and the Romans led away one hundred thousand captives.
On his return to Rome, Titus was honored by a triumph. The books of the law and the famous golden candlestick, which had been in the temple at Jerusalem, were carried as trophies in the procession. The Romans also commemorated their victory by erecting the Arch of Titus, which is still standing. The carving on this arch represents the Roman soldiers carrying the booty, and you will see there a picture of the seven-branched candlestick which they brought home.
Vespasian reigned ten years and was beloved by all his subjects. He was taken ill at his country house, and died there. Even when the end was near, and he was too weak to stand, he bade his attendants help him to his feet, saying, "An emperor should die standing."
| | | |
| --- | --- | --- |
| | Hundreds of additional titles available for online reading when you join Gateway to the Classics | |