The Story of the Romans

by Helene A. Guerber

Elementary history of Rome, presenting short stories of the great heroes, mythical and historical, from Aeneas and the founding of Rome to the fall of the western empire. Around the famous characters of Rome are graphically grouped the great events with which their names will forever stand connected. Vivid descriptions bring to life the events narrated, making history attractive to the young, and awakening their enthusiasm for further reading and study. Ages 10-14

349 pages

$13.95
THE CLEVER TRICK
[17] AFTER many days of sailing thus on the blue waters of the Mediterranean, and after much suffering in the different islands where they stopped to rest, Æneas and his companions came at last to the island of Sicily. This, as you will see on your maps, is a three-cornered piece of land, near the toe of the boot formed by the Italian peninsula. While the Trojans were resting here, poor old Anchises died, and was buried by his sorrowing son. But as soon as the funeral rites were ended, Æneas prepared to sail away, for he knew that this was not the place where he was to make his new home.
Unfortunately for Æneas, some of the gods whom his people had so long worshiped had taken a dislike to all the Trojan race. It was these gods who made him suffer so much, and one of them now stirred up a terrible tempest.
The boats were tossed up and down on the waves, and driven apart by the fierce winds, and some of them sank under the water. The other vessels would have been dashed to pieces, and all the men on board would have perished, had not a second god interfered in favor of Æneas, and suddenly stilled the awful storm.
The wind was so high, the darkness so great, and the lightning flashes so blinding, that Æneas had lost his bearings. When the storm was over, he sailed for the nearest land, and came to the coast of what is now Tunis; but he had no idea where he was. He therefore bade his companions remain on the ships, while he went ashore [19] with only one man,—the faithful Achates, who always went with him, and was his devoted friend. So these two men started out and began cautiously to explore the country where they had landed, trying to find some one who could tell them where they were.
Before long they met a beautiful woman. This was Venus, the mother of Æneas, in disguise. She had come there to tell her son all about the place where he had landed, and to give him some good advice; but she did not wish to have him know her at first.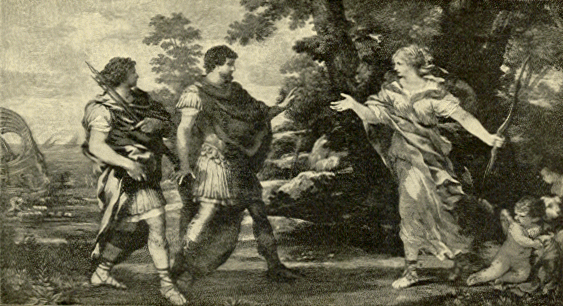 Meeting of Æneas and Venus.
Venus, therefore, began to speak to Æneas as if he were a stranger, and in answer to his questions said that he had landed in Africa, near the new city of Carthage. This town, she said, was ruled by Dido, a beautiful queen, who had also come from the coast of Asia, but from a spot southeast of the ruined city of Troy.
Dido's husband had been murdered by her brother, and she had fled in the night, upon one of her vessels, carrying off all her treasures; for she knew that her brother would soon try to kill her also. Many of her faithful subjects followed her, swearing that they would settle wherever she wished, and promising to help her found a new kingdom of which she should be queen.
When Dido reached the coast of Africa, near the present city of Tunis, and saw how beautiful the country seemed, she wished to settle there; but the people refused to sell her the land on which to build a city. She tried in vain to persuade them, and finally made up her mind to secure the land by a clever trick. She therefore asked the people if they would be willing to sell her as much land as an oxhide would inclose. The rude people were quite [20] ready to part with a few measures of dirt; so the bargain was at once made.
Imagine their surprise, however, when Dido had a large ox skin cut up into very narrow strips, drew these around a vast tract of land, and claimed it as her own! As the land had certainly been inclosed by an oxhide, they could not dispute her right to it, and Dido at once began to build a beautiful city, about which you will hear many tales.
| | | |
| --- | --- | --- |
| | Hundreds of additional titles available for online reading when you join Gateway to the Classics | |