COUNT VON BISMARCK
(1815–1898)
[344] OTTO EDUARD LEOPOLD BISMARCK was born on the estate of Schonhausen, near Stendal, in Prussian Saxony, on April 1, 1815.
His ancestors had been famous both in war and in diplomatic circles for several generations.
They were descended from the Prussian nobility; and his grandfather had held the office of Privy Counsellor to Frederick the Great.
At the age of six he entered a boarding school in Berlin, where he tells us they "served elastic meat, always accompanied with parsnips."
When he was twelve he came under the influence of Dr. Prevost who did much for the broadening of his mind and the strengthening of his character.
During his vacations he developed his powers of endurance by participating in manly sports; and then, at the age of seventeen, he entered the University of Gottingen for the purpose of studying law.
As a student he was not a brilliant success. He did not hold himself strictly to the prescribed [345] studies of his course. During the first year of his university life he fought twenty-eight duels; in one of these he was wounded on the left cheek and he carried the scar left by the wound all through his later life.
On leaving Gottingen, in 1833, he went to Berlin. After a couple of years of study there he received the diploma necessary to enable him to enter upon a professional career, but decided to devote his time to the care of his estate.
When thirty-two years of age he was elected a member of the General Diet. He at once began to impress the people with his great tact and forethought, and each year their confidence in him was deepened.
He exercised a large amount of outward patience toward those who opposed him; but he was simply awaiting the time when he could strike such decisive blows as would assure his ultimate success. This was one of the marked characteristics of his whole career.
It would seem that from the very beginning of his political life the people decided to take him just as he was; and they grew to be very fond of him.
His aim was to preserve the peace of Europe. With great skill he avoided trouble both for him- [346] self and for his countrymen; and he quickly made for himself a name both at home and abroad.
His early life was lived among the Prussians, but he became objectionable to them because of his desire for power.
At the first Prussian Parliament in which he sat, in 1847, he said in one of his speeches, "Away with the cities. I hope to see them all levelled to the ground;" and these words had in them the ring of that social hatred which he always showed toward the liberal class.
He followed very closely in the footprints of Garibaldi in the struggle for the unity and independence of Italy; and it would seem to be equally certain that Bismarck's methods were also followed by Garibaldi on several occasions.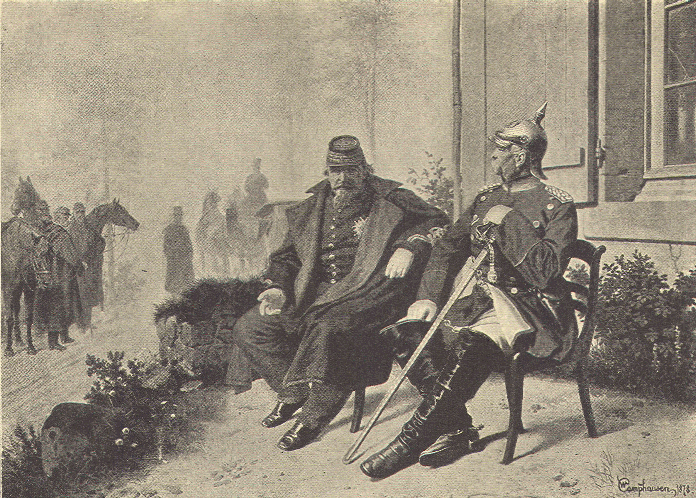 N

APOLEON

III

AND

B

ISMARCK

AT

S

EDAN

.
There were many non-Prussians who greatly admired Bismarck on account of his endeavors for German unity; but the people in the southern part of Germany were equally strong in their dislike for him.
Through many discouragements he continued to press calmly onward in what he felt to be the path of duty, and for over twenty years his career was unusually prosperous.
At different periods Bismarck was appointed [348] ambassador to Austria, Russia, and France. In 1862, at the age of forty-seven, he became Minister of the King's household, and also Minister of Foreign Affairs in Prussia.
The brother of the king was very much opposed to Bismarck's plan of excluding Austria from a place in the remodelled German Confederation. Even the queen looked upon this measure with fear, for she had been brought up under the principles of constitutional government.
The Princess Royal of England also showed a bitter spirit toward him, for she was anxious for the future of her children. But King William was a true friend to him, and Bismarck never regretted that he had placed confidence in the king's faithfulness.
In May, 1866, a fanatic by the name of Kohn attempted to kill Bismarck; and there were some who openly expressed their regret that the attempt was not successful.
Bismarck devoted his efforts to two main purposes, to transfer Austria to a position in the East, and to give to Germany political unity under Prussia.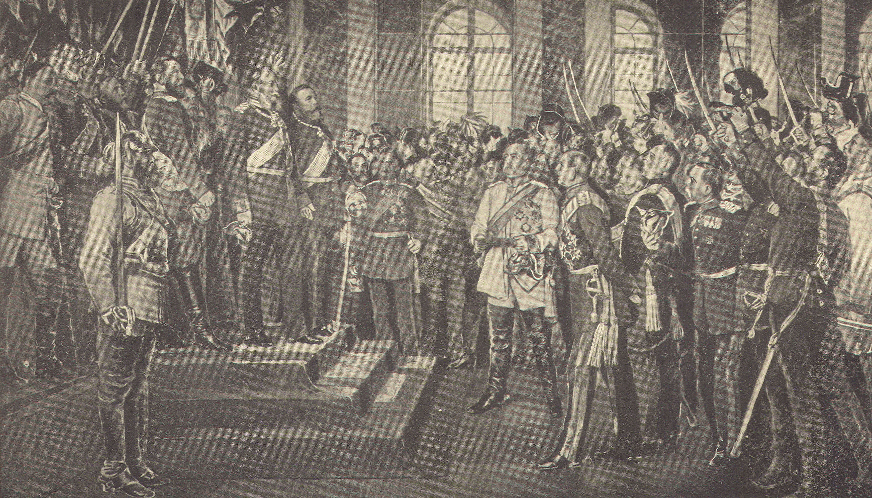 K

ING

W

ILLIAM

I

OF

P

RUSSIA

PROCLAIMED

G

ERMAN

E

MPEROR

.
He seems to have felt that if Austria were removed from her position within the federal body, she would become a permanent ally of the [350] New Germany; and that, in time, it would be better for her own interests and for those of Europe.
Bismarck had two powerful antagonists in the persons of Napoleon III of France and Earl Russell of England; and some thought he was working to bring about the union of France and Russia. But he was only measuring the men with whom he had to do, and studying out the plans he had in mind for the strengthening and consolidation of the German empire; and it has well been said, "It was Bismarck's constant misfortune to be misunderstood."
In the Franco-Prussian War of 1870-71, France was severely humbled; but what was of most interest to Bismarck was that it caused such national enthusiasm among the Germans that, at Versailles, in January 1871, the New German Empire was established with the king of Prussia as its leader.
It was also at this time that Bismarck was raised to the rank of prince.
On May 10, 1871, at the Treaty of Frankfort, France was obliged to give to Germany the province of Alsace, the greater part of Lorraine, and to pay an indemnity of five billion francs.
[352] Bismarck now paid close attention to the interests of the "fatherland." Germany was a federation, not greatly admired by some of the German people themselves; but accepted because it avoided making any radical changes in political affairs.
B

ISMARCK

AT

V

ERSAILLES

.
Under Bismarck's skillful management, it had been made so strong a power that war with France was no longer dreaded.
Germany is also indebted to Bismarck for its colonial policy; and although there are but few German colonial ports they command a very large trade. But it required all his tact and perseverance to make the people see the advantages which this policy would bring them.
After the death of William I, Prince Frederick ascended the throne; but he lived only a short time.
When William II came into power it was soon apparent that the emperor and the chancellor were not in accord; and Bismarck resigned his office on March 20, 1890, and retired to private life.
The emperor presented him with the Dukedom of Lauenburg; and he took great interest in all the affairs of the German nation until his death in 1898.
| | | |
| --- | --- | --- |
| | Hundreds of additional titles available for online reading when you join Gateway to the Classics | |