GARIBALDI
(1807–1882)
[326] GIUSEPPE GARIBALDI, a descendant of an old family of Lombards of North Italy, was born in Nice, on July 4, 1807.
At an early age he became an expert swimmer, and it is recorded that while still a lad he saved several persons from drowning.
He had an excellent mother, and his love for her was both tender and true; and she seems to have been instrumental in developing in him that strong patriotic feeling which formed the leading feature in his character.
It was under the direction of his mother, with the assistance of the village priest as school-master, that he received his education.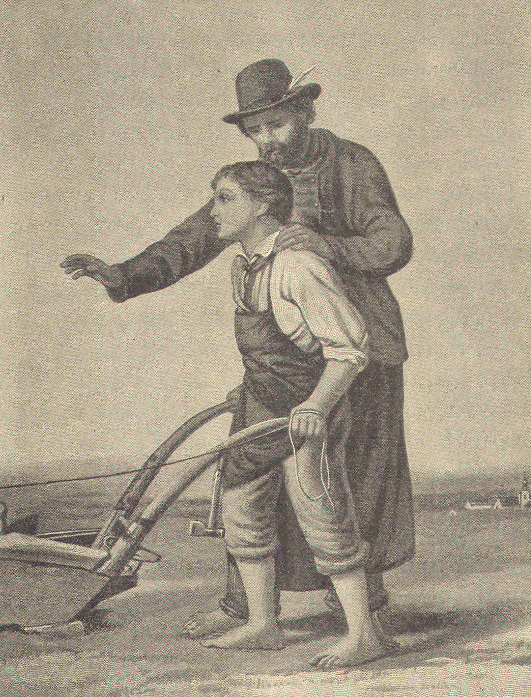 G

ARIBALDI

AND

HIS

SON
His father was a seaman, and young Garibaldi accompanied him on several of his voyages, particularly to Rome and Constantinople.
By the time Garibaldi reached the age of twenty-four he had become warmly interested in the revolutionary movements of "Young Italy." His interest was greatly quickened through his becoming acquainted with Mazzini (mat zeé nee), [328] who was just then preparing to invade Italy by sea.
The effort was unsuccessful, and Garibaldi hastily left the country and thus found himself an exile at the very beginning of his career. He took refuge in Marseilles, and afterwards joined the French navy.
As soon as he could get himself free from his entanglements he started on a sea voyage; and in 1836 we find him in Rio de Janeiro where he remained for about twelve years. These years were filled with romantic adventures, from some of which he barely escaped with his life.
Rio Grande do Sul, one of the states of Brazil, possessing a vast territory, was at war with the Brazilian emperor, and Garibaldi threw in his lot with the revolutionists.
He first took command of a privateer, a small boat with only twelve men as crew. But a little later he was successful in seizing, as a prize, a much larger and better equipped vessel; and although not always successful in his encounters with the Brazilians he began to make himself felt as one of the factors to be dealt with in the war.
He passed over into the Argentine territory, and there fell into the hands of a brutish Spanish American who struck him across the face with [329] a horse-whip, and who also caused him to suffer several hours of torture on the rack, after which he was cast into a dungeon.
Through the kindness of Madame Alleman, whom Garibaldi afterwards spoke of as "an angel of charity," his sufferings were not so intense as they otherwise might have been. Shortly afterwards through the intervention of the governor he escaped from his tormentor.
On leaving the Argentine territory he crossed over again into Rio Grande and devoted himself anew to the cause of the revolutionists.
This time he met with better success, fighting many battles, sometimes with only a handful of men. The difficulties he met with were tremendous; but he never lost his courage, and showed so much skill and such strong personality as gave great authority to his counsels. He also softened the stern discipline under which the soldiers had fretted for years; and this made him popular with the army.
In a hurricane off the coast of Santa Catharina he was wrecked; and while detained there he met Anita, the talented woman who became his wife. She was a woman of heroic mold, and proved herself both true and helpful in all the hardships which befell him.
[330] After the defeat of the revolutionists at the battle of Las Austras Garibaldi seems to have grown discouraged as to the outcome of the war. He therefore bade farewell to his friends at Rio Grande and settled for a while in Montevideo.
At Montevideo he became a teacher of mathematics in one of the city schools; but the life of a teacher was too tame for a man of his adventurous spirit and he soon gave up his position and again entered upon the life of a soldier.
Some men who had become jealous of his successes in Rio Grande now plotted to have him assassinated; but in this they failed.
He was then put in charge of a small squadron and sent out to meet a much superior force, in the hope that he might be destroyed. But he won. such glory in the battle of San Antonio as to earn for himself the proud title of "the Hero of Montevideo."
Through all his wanderings and adventures his heart remained true to the cause of his native country; and after an absence of over twelve years he decided to return to Italy.
With great difficulty he procured the money for his voyage, and he landed at Nice with his wife and a few faithful comrades in 1848.
On his arrival Garibaldi offered his services [331] to the Italian government, but they were refused. Finally the government of Lombardy gave him command of a small body of volunteers.
When Rome was attacked by the French, the Italians, regardless of party, gathered their forces about Garibaldi and drove the French back.
But the Italians suffered a terrible defeat in a three months' siege of Rome a little later on, and many valuable lives were lost.
The French took possession of the city; and Garibaldi, with a few devoted volunteers, set out to join the attack then being made on Austria. He and his followers were met on all sides by the overwhelming forces of Austria and were compelled to disband and flee to the woods.
Garibaldi sought shelter for his brave wife Anita; but she was unable to endure the hardships which followed, and died in the arms of her husband.
Our heart-broken hero again became a wanderer. A friend supplied him with means to reach Tunis, and obtained for him a pension, which he gladly accepted.
Garibaldi again crossed the ocean, this time to the United States. He became a successful business man in New York, where he remained until his return to Europe in 1855.
[332] When he reached home he purchased a part of the islet of Caprera on the coast of Sardinia; and built a little home which he called "The Hermitage."
Four years later he was again called to defend the cause of Italy. He was given command of a regiment, and again went forth to meet the Austrians whom he defeated at Varese. He continued in the service until the peace of Villa-franca, to which Napoleon was a party; and this treaty brought the long struggle for Italian independence to a successful close.
Victor Emmanuel was now on the throne of Italy, and Garibaldi, who was popularly known as "the hero of the red shirt," was warmly welcomed by him.
It was in Victor Emmanuel that the hopes of the patriots now centered for the freedom of Italy, and they were not disappointed; for by the wise policy of Count Cavour, the prime minister, and the many victories of Garibaldi, it was established on a firm basis.
After meeting Victor Emmanuel and hailing him as king, Garibaldi retired to his hermitage; but a great part of Italy still longed to possess Rome as its capital.
The French upheld the power of the Pope; [333] but the Franco-Prussian war of 1870 caused France to withdraw her troops from Rome.
When the French republic was established Victor Emmanuel was officially told that France would no longer uphold the Papal power; and the Italian government informed the Pope that Rome would thereafter be considered a part of the kingdom of Italy.
On July 2, 1872, Victor Emmanuel took up his residence in Rome, and the palace of the Vatican became the Pope's place of residence.
In 1875 Garibaldi became a member of the Italian parliament. Titles and honors were offered him but he declined to accept them.
His health was rapidly failing. So he retired again to his hermitage, where he died on June 2, 1882, at the age of seventy-five.
| | | |
| --- | --- | --- |
| | Hundreds of additional titles available for online reading when you join Gateway to the Classics | |