The King Walks with Two Disciples

THE KING WALKS WITH TWO DISCIPLES
[379] ALL day the disciples had been perplexed with rumors. Now somebody said that the women had seen not only an angel, but the Lord himself. Jesus met them, saying "All hail!" and they came and held him by the feet and worshiped him. Then somebody else said that there had been an earthquake in the middle of the night, and that the angel of the Lord had descended from heaven and rolled back the stone from the door and sat upon it. The women had seen him, and his face was like lightning and his raiment white as snow.
Presently it was reported that Mary Magdalene had seen the Lord. Mary was standing by the door of the sepulchre weeping, and as she wept she stooped down and looked into the sepulchre, and there were two angels sitting, the one at the head and the other at the [380] feet where the body of Jesus had lain. And they said, "Why do you weep?" and she answered, "Because they have taken away my Lord, and I know not where they have laid him." And when she had thus said she turned back, and saw Jesus standing, and knew not that it was Jesus. Jesus said, "Why do you weep? Whom do you seek?" She supposed that it was the gardener. The morning was still dark and her eyes were full of tears. "Sir," she said, speaking to the gardener, "if thou hast borne him hence, tell me where thou hast laid him, and I will take him away." Jesus said, "Mary." She turned and recognized him, and cried "My Master!" And Jesus told her not to touch him, but to go and tell his brethren, the disciples. So she went in haste and told them as they mourned and wept. "He is alive," she said. "I have seen him with my eyes." But even then they did not believe.
That afternoon two men, one of whom was named Cleopas, took a long walk. They lived in a village called Emmaus, half a dozen miles [381] out of Jerusalem. They had been in the city over the sabbath and were returning home. They may have stood beside the cross; they may have spent the day with the disciples; all that we know is that they had been friends and followers of our Lord. And as they went they talked together of all these things that had happened. The sun, which had been shrouded in darkness on Friday, was now shining brightly, and all the spring birds were singing Easter carols in the green trees, and Easter flowers were shining all along beside the road. It was a beautiful, glad day. But the two men did not see the sun; they did not hear the birds; as for the buds and blossoms, they might have been briers and brambles, the men would not have known the difference. For do you know what they were doing as they walked between the pleasant fields? They were both crying. These grown men were crying as they went so that everybody who passed them on the way noticed them. People stopped to look after them and said: "What has happened? Have they had [382] bad news? Are they returning from a funeral? Why do they cry?"
At last, as they came into the country, and the city was out of sight behind them, one of the passers-by spoke to them. "What are you talking about?" he said, "as ye walk and are sad?" And Cleopas answered, "You must be a stranger in Jerusalem. You must have come to the Passover from a long way off, or you would not ask. Do you not know the things that are come to pass then in these days?" And he said, "What things?" And they said, "Concerning Jesus of Nazareth, who was a prophet mighty in deed and word before God and all the people: and how the chief priests and our rulers delivered him to be condemned to death, and have crucified him. We believed in him with all our hearts. We thought that he was the Christ, the deliverer of Israel. But he died and was buried. That was three days ago. There have been strange things said to-day. Certain women of our company went out very early this morning to the sepulchre and found it empty. They came back [383] declaring that they had seen a vision of angels which said that he was alive. But when some of the men went they found only the empty tomb. They saw no angels, neither did they see the Lord. He was crucified and dead and buried, and his body has been taken away. That is all that we know. Do you wonder that we go home crying as we go?"
As they spoke the stranger walked beside them, and when the tears came again into their eyes and voices, he said, "Have you not read the Bible? Do you not know that the Christ must suffer all these things? What is meant by the psalm where it is written, 'They pierced my hands and my feet?' What is meant by the chapter in Isaiah where it is written, 'He is despised and rejected of men, a man of sorrows and acquainted with grief. He was wounded for our transgressions, he was bruised for our iniquities: the chastisement of our peace was upon him, and with his stripes we are healed?' " The words which he said, and the voice in which he spoke, impressed them deeply. "You thought," he [384] said, "that Jesus could not be the Christ, the Son of God, because he died upon the cross. But you see that holy men of old time, looking forward to the time of Christ, saw that he must be put to death. It has all happened as the prophets said. Yes, and more also: Christ dies, but he rises again from the dead." Their hearts glowed within them as he spoke.
So they drew near to the village where they lived, and as they came to a parting of the ways he made as though he would have gone farther, but they urged him, saying, "Abide with us; for it is towards evening, and the day is far spent." And he went in to tarry with them. And it came time for supper, and they sat down together, Cleopas and his friend, and the women and the little children of the family, and the stranger. They asked the stranger to say the blessing. And as he said it he took bread and brake it and gave to them. And their eyes were opened, and they knew him. It was the Lord himself! And he vanished out of their sight.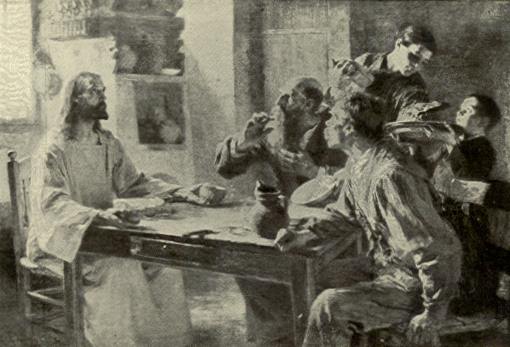 THE
SUPPER
AT
EMMAUS
Then they rose up immediately and hastened [385] back to Jerusalem, but there were no more tears in their eyes as they ran along the road.
That night the disciples were together with the doors fast shut, for they were still afraid of the Pharisees and Sadducees. Only ten of them were present, for Judas was dead, and Thomas was so overcome with grief and disappointment that he stayed by himself, thinking his own thoughts, asking only to be left alone. The ten were sitting at the table, having finished their supper. There was still some fish on the table, and some honey in the comb. Peter was talking excitedly. "I have seen him," he was saying. "He came and spoke to me. He is alive." Then there was a sound of hurrying steps upon the stairs, and a quick knock at the door, and when one said, "Who is it? what do you want?" a voice said, "This is Cleopas of Emmaus, with great news. Open the door." Cleopas and his friend were admitted, and the door was locked again. And they told what things were done in the way, and how he was known of them in breaking of bread.
[386] And as they thus spake,—Cleopas telling his story, and the ten crying, "He is risen indeed and hath appeared to Peter,"—Jesus himself stood in the midst. The doors were shut, and stayed shut. He had not entered by the doors. He appeared, as he had vanished at Emmaus, suddenly, out of the air. "Peace be unto you," he said. But they were terrified and affrighted, supposing that they had seen a spirit. And he showed them his hands and his feet, with the marks of the nails, and taking fish and honey ate before them to make them know then that it was indeed himself. "Peace be unto you," he said again; "as my Father hath sent me, even so send I you." There he stood, in their sight, the risen Lord. He who had died was now alive.
| | | |
| --- | --- | --- |
| | Hundreds of additional titles available for online reading when you join Gateway to the Classics | |