The Story of Greece

by Mary Macgregor

Stories from the history of ancient Greece beginning with mythical and legendary stories of gods and heroes and ending with the conquests of Alexander the Great. Gives short accounts of battles and sieges, and of the men who made Greece a great nation. Ages 10-14

505 pages

$16.95
Front Matter
---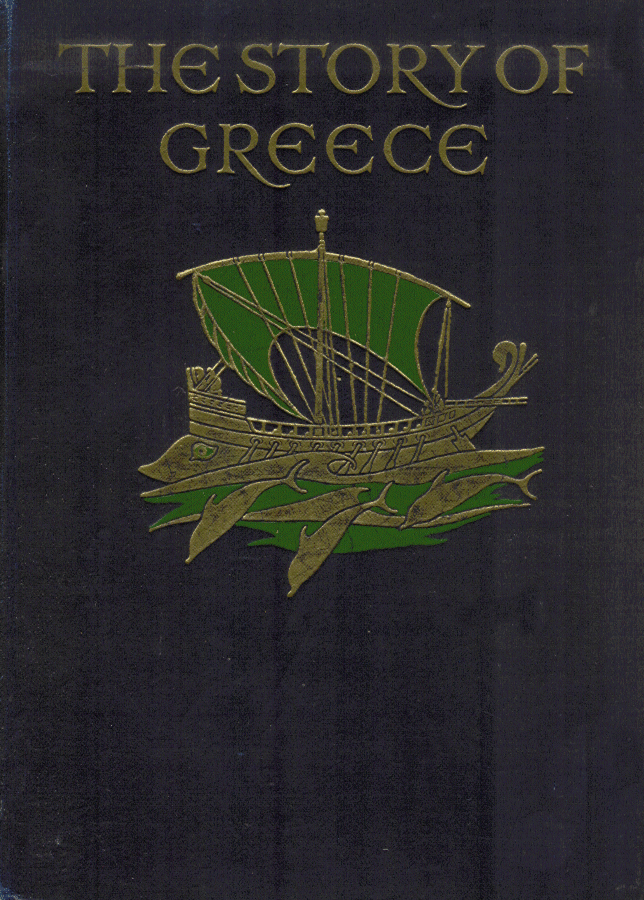 ---

---
---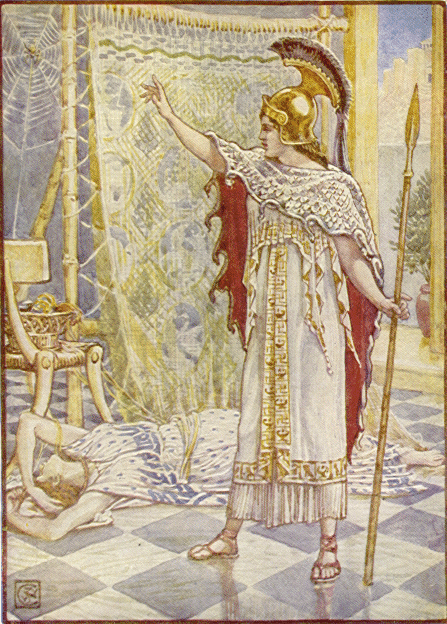 She changed her into a spider
---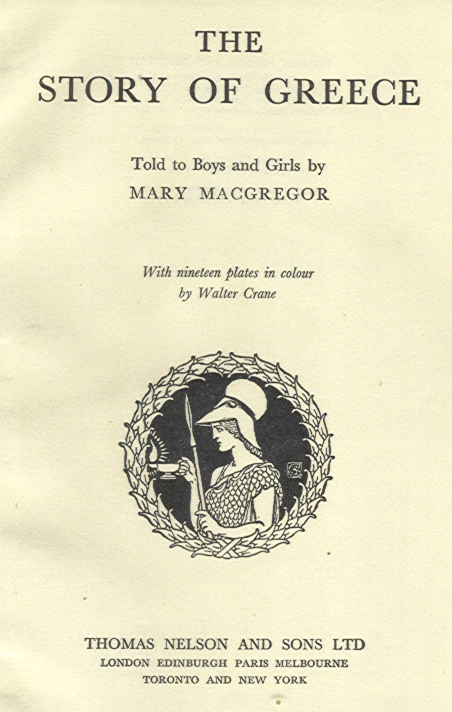 ---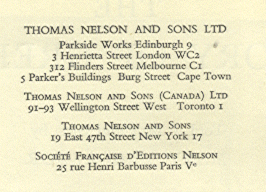 ---

---
DEAR LITTLE JOYCE,—One of the reasons why this book is to be your very own is that the story it tells begins in Wonderland, and that is a land in which you and all other little people wander at will.
Grown up children, men and women as we call them, do not know the secrets of this strange land, yet there are a few who can always find their way across its border, as they used to do when they were small like you. Some few others there are who remember its secrets well.
Shall I tell you some of the things you hear and see and do in Wonderland?
Why, when the wind blows soft, faint whispers reach your ear, but you alone know what the whispers tell. When the brooks gurgle you hear joyous laughter, and in the springs of water you see the sparkle of elfin eyes.
As the bluebells shake in the breeze, your tiny feet march to the music of fairy hands, as the raindrops fall you gather pearls with your little hands.
The secrets of this strange Wonderland make you so glad that you laugh and dance and sing.
"Great, wide, beautiful, wonderful world,
With the wonderful water round you curled,
And the wonderful grass upon your breast,
World you are wonderfully drest."
The ancient Wonderland of Hellas, of which this story tells, was unlike your Wonderland in this, that men and women dwelt in it as well as boys and girls, and they, too, saw and heard its secrets. And this was because, in a way not known to-day, each had kept the heart of a little child.
So it was that these men and women heard voices in the wind and laughter in the streams, so it was that they saw eyes in water springs and pearls in raindrops.
[viii] More even than these things the Hellenes saw. For across lone hillsides, through busy fields, in sacral groves and flower-sweet meadows, radiant figures sped. And the simple folk catching glimpses of these flitting forms said one to the other, "The gods have come to live among us. Their presence it is that makes the earth so fair, so wonderful." As the years passed and the Hellenes grew older, sterner times came. Cities sprang up on hillsides and by riverbanks, and the gods were seldom seen. Men went to war, battles were lost and won.
But never, in victory or in defeat, did the people lose their early love of beauty, or that strange, dreamy sense of wonder, which from the beginning was ever plucking at their hearts.
They longed to fulfil their dreams of beauty, they wished to re-shape the world.
But, because the world was so great, so wide, they began with one of their cities, the one of which a poet sang,
"O rich and renowned and with violets crowned,
O Athens the envied of nations."
Here they built temples which became the wonder of the world, and in them they placed statues of the old gods of Hellas, beautiful statues wrought by master hands out of ivory and gold.
Poets and philosophers lived in Athens, too, and so literature and art spread the glory of Greece far and wide, moulding the thoughts and quickening the deeds of many peoples.
Before the glory of Greece faded, Europe had learned from her to follow truth, to love beauty.
This story tells but a small part of the wonder of this land, yet I hope that it will make you love her and wish to learn more about her.—Your friend,
---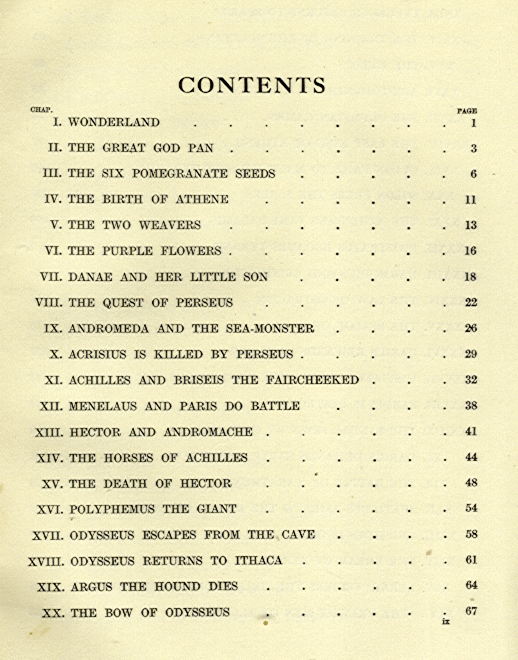 ---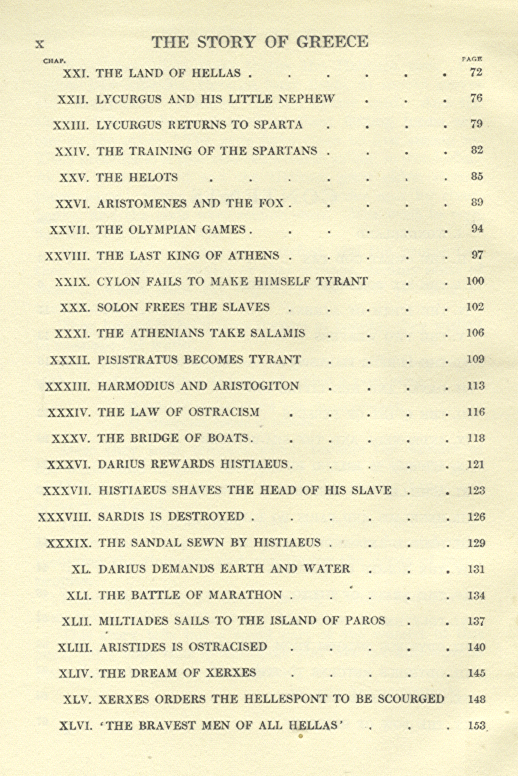 ---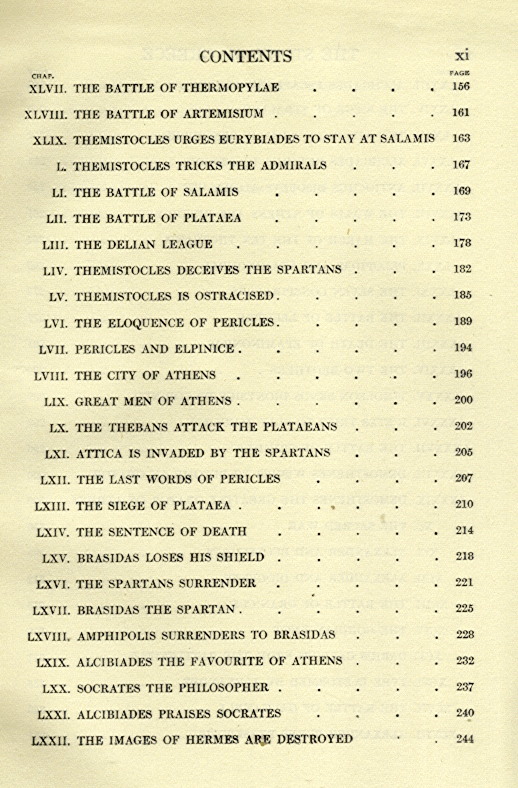 ---
---
---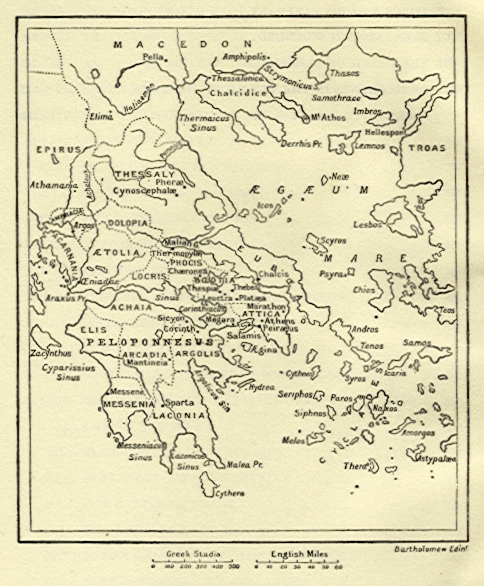 ---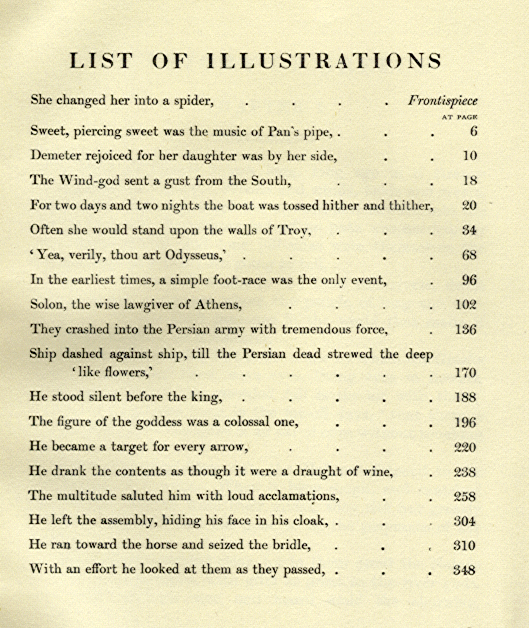 | | | |
| --- | --- | --- |
| | Hundreds of additional titles available for online reading when you join Gateway to the Classics | |