The Story of Rome

by Mary Macgregor

A vivid account of the story of Rome from the earliest times to the death of Augustus, retold for children, chronicling the birth of a city and its growth through storm and struggle to become a great world empire. Gives short accounts of battles and campaigns, and of the men who expanded the borders of the Roman empire to include all lands bordering the Mediterranean Sea. Ages 10-14

593 pages

$18.95
THE GAUL DARES NOT KILL GAIUS MARIUS
[318] AS you know, Marius had been proclaimed a public enemy, and it was the duty of any one who captured him to put him to death. The magistrates of Minturnæ resolved to do their duty.
But no citizen was to be found who would undertake to put Marius to death, for his fame made him still terrible in their eyes.
At length a Gaul, who had seen him as he fought with the Cimbri, was sent, sword in hand, to kill the prisoner.
Marius had been thrust into a dimly-lighted room. As the Gaul opened the door he saw nothing save two eyes which gleamed like fire. As he advanced the eyes seemed to follow his every movement, until he was conscious of nothing save the terror of that burning gaze.
The next moment a loud voice cried: "Fellow, darest thou kill Gaius Marius?" and in a flash the Gaul knew that in truth he dared not. Throwing down his sword, he rushed from the room in a frenzy of terror, crying: "I cannot kill Gaius Marius." So the magistrates and citizens of Minturnæ had the prisoner once more on their hands.
It may be that something of the same awe that had overpowered the Gaul took possession of them, for now they determined to help their prisoner escape.
Marius was brought out of his gloomy prison and taken once more to the seashore and placed on board a ship.
A favourable wind carried the vessel swiftly to Africa, where Marius landed, to find his son already there and awaiting him.
After young Marius had listened to the tale of his father's [319] adventures, he was sent to Hiempsal, King of Numidia, to beg for protection for his father and himself.
Marius, meanwhile, went to Carthage. But scarcely had he reached it when Sextilius, the Roman governor, sent an officer to bid him leave the province.
"Sextilius forbids you to stay in this province," said the officer. "If you do, he declares he will put the decree of the Senate in execution, and treat you as an enemy to the Romans."
After all he had gone through, must he be persecuted still? In grief as well as in anger Marius sat silent and dismayed.
At length the officer asked what answer he should take back to Sextilius. "Go tell him," answered he, "that you have seen Gaius Marius sitting in exile among the ruins of Carthage."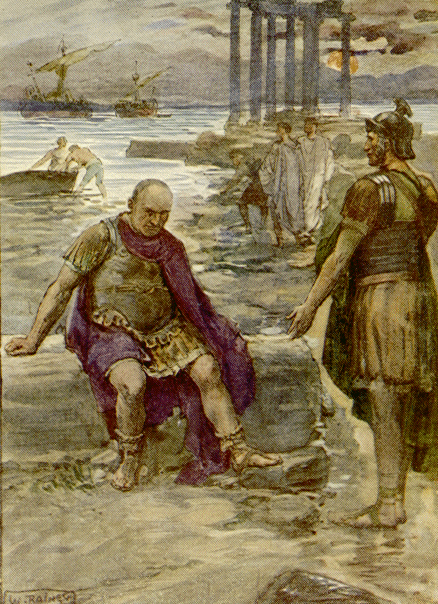 Gaius Marius sitting in exile among the ruins of Carthage.
Meanwhile, young Marius had reached the King of Numidia, and was treated by him with kindness.
But each time that he proposed to go back to his father, Hiempsal had some polite reason for not allowing him to leave his court.
The king, indeed, was hesitating as to whether or not he would send the exiles back to Sulla, and so win the favour of Rome.
But young Marius grew impatient of these delays, and one day he made his escape and went back to his father.
It was plain that the King of Numidia could not be trusted, and that there was no safety for the exiles in Africa. So father and son hastened to the coast, and hiring a little fishing-boat, they sailed to an island named Cercina, which was not far from the continent.
It was well that they had not lingered in Carthage, for soon after they had embarked in their little boat, horsemen, sent by the King of Numidia, reached the shore, expecting to capture both Marius and his son.
| | | |
| --- | --- | --- |
| | Hundreds of additional titles available for online reading when you join Gateway to the Classics | |