The Red Indian Fairy Book

by Frances Jenkins Olcott

A choice collection of Native American myths and legends carefully selected from many sources. Most are nature stories telling about birds, beasts, flowers, and rocks of our American meadows, prairies, and forests. The tales are arranged according to the seasons with several stories offered for each month of the year. There are some for early spring, when the maple sap mounts, and the arbutus blooms under the snow; for later spring, when the birds nest, and the wild flowers blow; for summer, with its heat, storms, fishing, and canoeing; for autumn with its corn, nuts, and harvest feast; for winter, with its ice, snow, and adventures. A comprehensive subject index for use by teachers and storytellers is included. Ages 8-12

304 pages

$12.95
Front Matter
---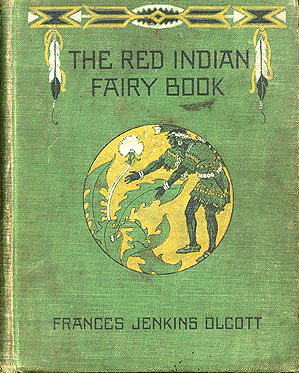 ---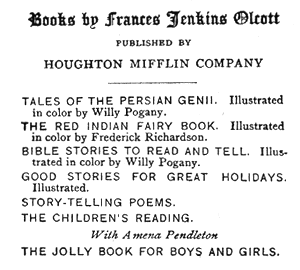 ---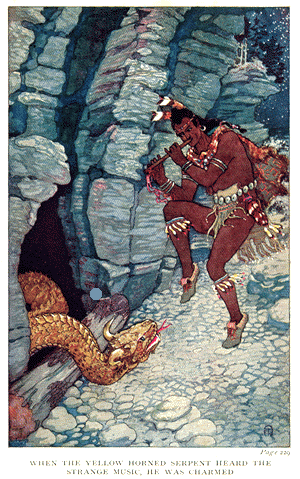 ---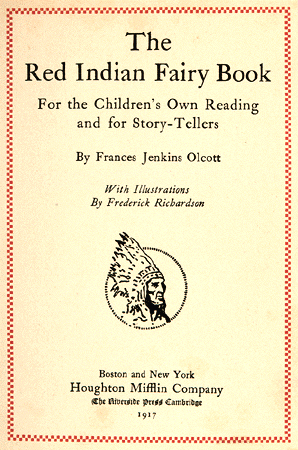 ---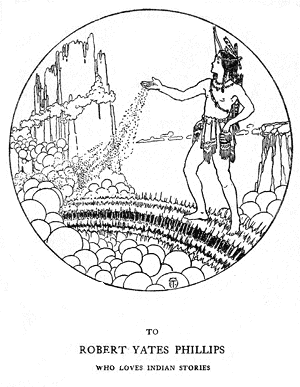 ---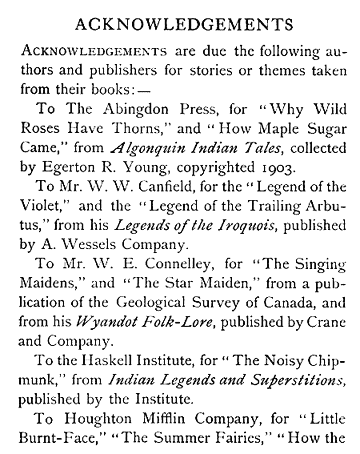 ---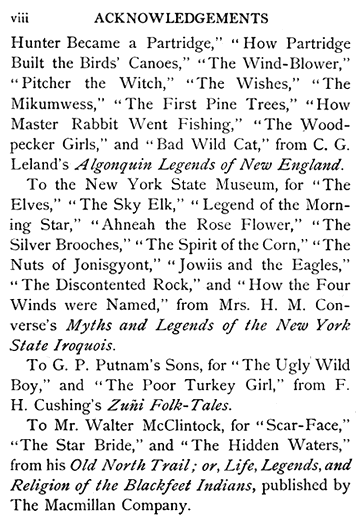 ---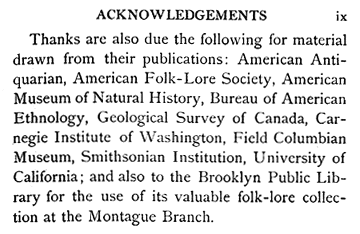 ---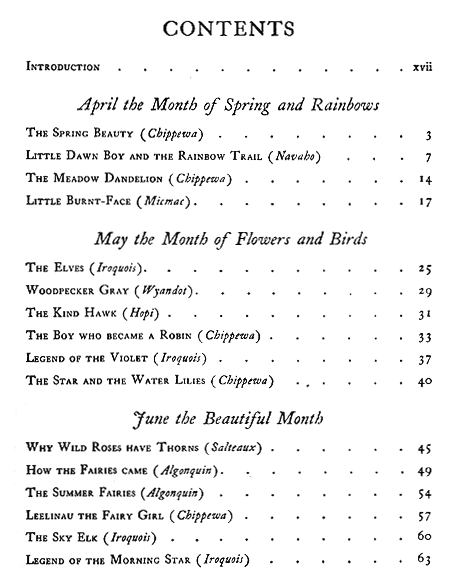 ---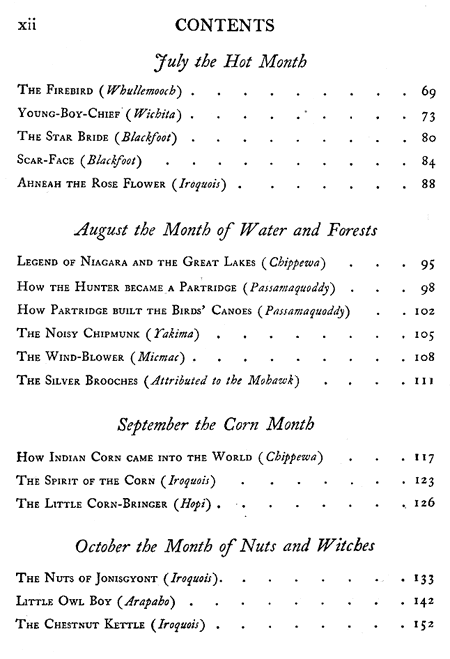 ---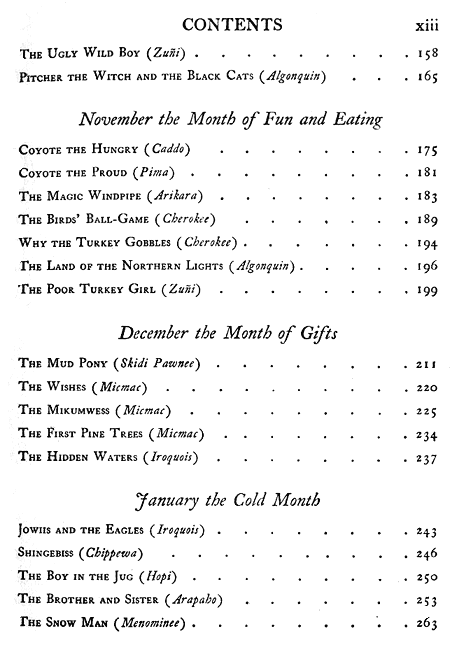 ---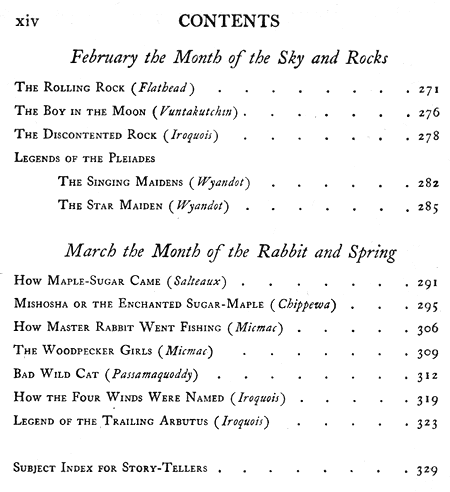 ---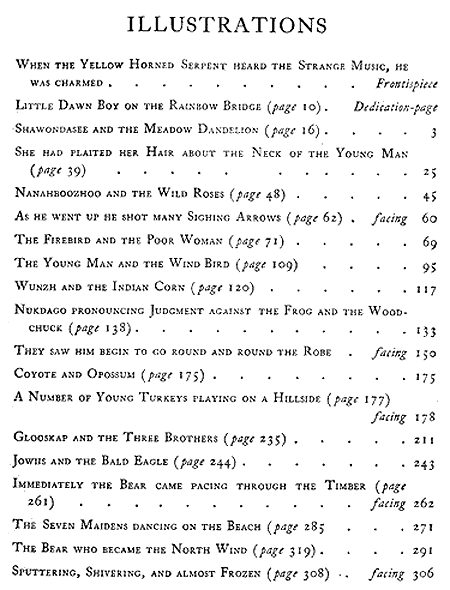 ---
INTRODUCTION
[xvii] HERE are sixty-four stories of the Red Men, telling of Magic, Mystery, and Fairies. Most of them are Nature stories—poetic fancies of the Indians about birds, beasts, flowers, and rocks of our American meadows, prairies, and forests. Here also are tales of the Wind, Rainbow, Sun, Moon, and Stars. A few moral stories, tender and simple, like "Little Burnt-Face," are included. Indian customs, and life in the wigwam and forest, are all here.
The tales are arranged according to the Seasons. There are some for early Spring, when the maple sap mounts, and the arbutus blooms under the snow; for later Spring, when the birds nest, and the wild flowers blow; for Summer, with its heat, storms, fishing, and canoeing; for Autumn, with its corn, nuts, Witch-Night, and harvest feast; for Winter, with its ice, snow, and adventures.
In choosing themes for these stories, a large [xviii] body of folklore of many tribes has been gone over. In retelling, all that is coarse, fierce, and irrational has been eliminated as far as possible, and the moral and fanciful elements retained. The plots have been more closely constructed, and retold in the direct manner interesting to children. The character and spirit of the original stories have been carefully preserved, as may be seen by comparing the elemental tales of the Caddo and Vuntakutchin Indians with the more highly developed, poetic ones of the Algonquin or Iroquois tribes.
The reader may be surprised at the absence of the benign "Great Spirit" who figures in many modern Indian tales. But the truth is, he is not to be found in aboriginal Red Indian mythology. To quote from Mr. Leland's Algonquin Legends, "I do not believe that the idea of a Great Spirit, in the sense in which it is generally used by Indians, or is attributed to them, was ever known till learned from the whites." The Second Annual Report of the Bureau of American Ethnology says, "The 'Great Spirit,' so popularly and poetically known as the god of the Red Man, and the [xix] 'Happy Hunting-Ground,' generally reported to be the Indian's idea of a future state, are both of them but their ready conception of the white man's God and Heaven."
Most of these tales have been issued for story­tellers, in the columns of the Saturday Magazine of the New York Evening Post. So the stories are not only for the children's own reading, but they form a storehouse of Red Indian Nature myths, suitable for story-telling in homes, schools, and libraries. To aid the story-teller, a subject index is appended on page 329.
| | | |
| --- | --- | --- |
| | Hundreds of additional titles available for online reading when you join Gateway to the Classics | |