Richard of Jamestown

by James Otis

Follow the fortunes of orphan Richard Mutton as he travels to the New World with Captain John Smith and takes up residence with him in the new colony of Jamestown. See the struggles they go through to keep a roof over their heads and food on the table while the majority of their fellow colonists shirk the work of establishing the colony for the pursuit of gold. Observe how their relationships with the native Americans change over time and how, when they are just on the point of abandoning the colony, a new contingent of colonists arrives to bring fresh hope to the Jamestown settlement. Numerous black and white illustrations complement the text. Ages 8-10

156 pages

$9.95
HOW I EARNED MY PASSAGE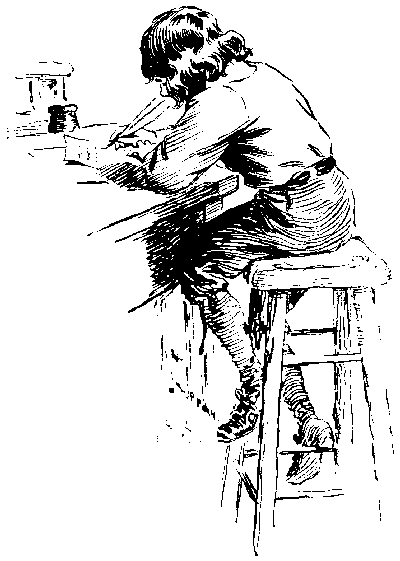 CAPTAIN SMITH, my master, found plenty of work for me during the weeks before the fleet sailed. He had many matters to be set down in writing, and because of my mother's care in teaching me to use the quill, I was able, or so it seemed to me, to be of no little aid to him in those busy days, when it was as if he must do two or three things at the same time in order to bring his business to an end.
I learned during that time to care very dearly for this valiant soldier, who could, when the fit was on him, be as tender and kind as a girl, and again, when he was crossed, as stern a man as one might find in all London town.
Because of my labors, and it pleased me greatly that [22] I could do somewhat toward forwarding the adventure, I had no time in which to search for my friend, Nathaniel Peacock, although I did not cease to hope that he would try to find me.
I had parted with him in the city, and he knew right well where I was going; yet, so far as I could learn, he had never come to Blackwall.
I had no doubt but that I could find him in the city, and it was in my mind, at the first opportunity, to seek him out, if for no other reason than that we might part as comrades should, for he had been a true friend to me when my heart was sore; but from the moment the sailors began to put the cargo on board the Susan Constant and the Goodspeed, I had no chance to wander around Blackwall, let alone journeying to London.
| | | |
| --- | --- | --- |
| | Hundreds of additional titles available for online reading when you join Gateway to the Classics | |