Fear of Famine in a Land of Plenty

Richard of Jamestown

by James Otis

Follow the fortunes of orphan Richard Mutton as he travels to the New World with Captain John Smith and takes up residence with him in the new colony of Jamestown. See the struggles they go through to keep a roof over their heads and food on the table while the majority of their fellow colonists shirk the work of establishing the colony for the pursuit of gold. Observe how their relationships with the native Americans change over time and how, when they are just on the point of abandoning the colony, a new contingent of colonists arrives to bring fresh hope to the Jamestown settlement. Numerous black and white illustrations complement the text. Ages 8-10

156 pages

$9.95
FEAR OF FAMINE IN A LAND OF PLENTY
HOWEVER, I must set this much down as counting in our favor: when we landed in this country we had three pigs, and a cock and six hens, all of which we turned loose in the wilderness to shift for themselves, giving [139] shelter to such as came back to us when winter was near at hand.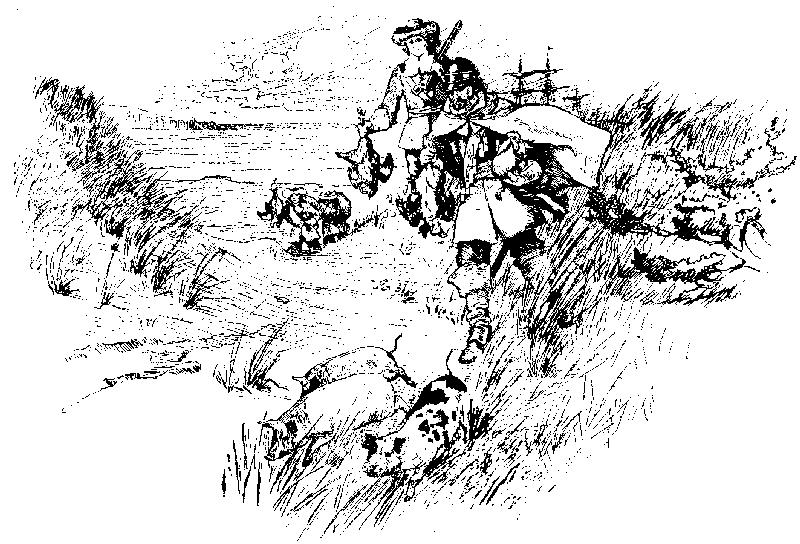 Within two years we had of pigs more than sixty, in addition to many which were yet running wild in the forest. Of hens and cocks we had upward of five hundred, the greater number being kept in pens to the end that we might profit by their eggs.
I have heard Master Hunt declare more than once, that had we followed Captain Smith's advice, giving all our labor to the raising of crops, our storehouse would have been too small for the food on hand, and we might have held ourselves free from the whims of the savages, having corn to sell, rather than spending near to half our time trying to buy.
As Master Hunt said again and again when talking [140] over the situation with Captain Smith, it seemed strange even to us who were there, that we could be looking forward to a famine, when in the sea and on the land was food in abundance to feed half the people in all this wide world.
To show how readily one might get himself a dinner, if so be his taste were not too nice, I have seen Captain Smith, when told what we had in the larder for the next meal, go to the river with only his naked sword, and there spear fish enough with the weapon to provide us with as much as could be eaten in a full day. But yet some of our gentlemen claimed that it was not good for their blood to eat this food of the sea; others declared that oysters, when partaken of regularly, were as poisonous as the sweet potatoes which we bought of the Indians.
Thus it was that day by day did we who were in the land of plenty, overrun with that which would serve as food, fear that another time of famine was nigh.
| | | |
| --- | --- | --- |
| | Hundreds of additional titles available for online reading when you join Gateway to the Classics | |