Richard of Jamestown

by James Otis

Follow the fortunes of orphan Richard Mutton as he travels to the New World with Captain John Smith and takes up residence with him in the new colony of Jamestown. See the struggles they go through to keep a roof over their heads and food on the table while the majority of their fellow colonists shirk the work of establishing the colony for the pursuit of gold. Observe how their relationships with the native Americans change over time and how, when they are just on the point of abandoning the colony, a new contingent of colonists arrives to bring fresh hope to the Jamestown settlement. Numerous black and white illustrations complement the text. Ages 8-10

156 pages

$9.95
THE FIRST ISLAND
IT is to be remembered that our fleet left London on the twentieth day of December, and, as I have since heard Captain Smith read from the pages which he wrote concerning the voyage, it was on the twenty-third of March that we were come to the island of Martinique, where for the first time Nathaniel Peacock and I saw living savages.
When we were come to anchor, they paddled out to [30] our ships in frail boats called canoes, bringing many kinds of most delicious fruits, which we bought for such trumpery things as glass beads and ornaments of copper.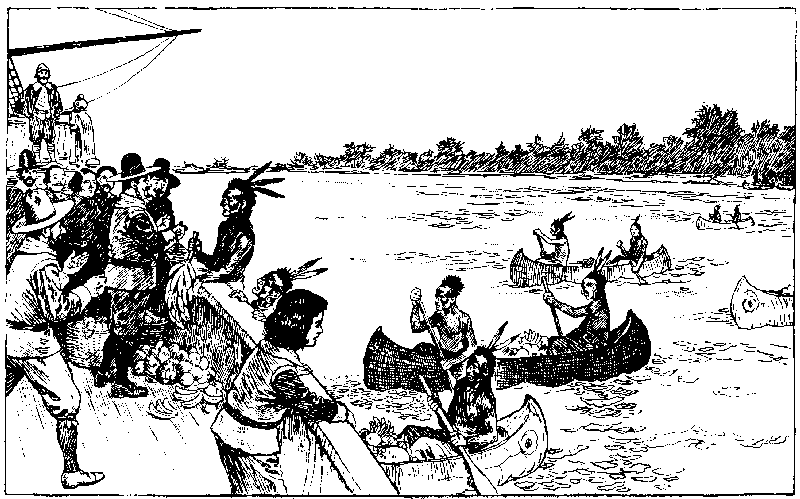 It was while we lay off this island that we saw a whale attacked and killed by a thresher and a swordfish, which was a wondrous sight.
| | | |
| --- | --- | --- |
| | Hundreds of additional titles available for online reading when you join Gateway to the Classics | |