A Time of Sickness and Death

Richard of Jamestown

by James Otis

Follow the fortunes of orphan Richard Mutton as he travels to the New World with Captain John Smith and takes up residence with him in the new colony of Jamestown. See the struggles they go through to keep a roof over their heads and food on the table while the majority of their fellow colonists shirk the work of establishing the colony for the pursuit of gold. Observe how their relationships with the native Americans change over time and how, when they are just on the point of abandoning the colony, a new contingent of colonists arrives to bring fresh hope to the Jamestown settlement. Numerous black and white illustrations complement the text. Ages 8-10

156 pages

$9.95
A TIME OF SICKNESS AND DEATH
THE first who went out from among us, was John Asbie, on the sixth of August. Three days later George Flowers followed him. On the tenth of the same month William Bruster, one of the gentlemen, died of a wound given by the savages while he was searching for gold, and two others laid down their lives within the next eight and forty hours.
[81] Then the deaths came rapidly, gentlemen as well as serving men or laborers, until near eighty of our company were either in the grave, or unable to move out of such shelters as served as houses.
A great fear came upon all, save that my master held his head as high as ever, and went here and there with Master Hunt to do what he might toward soothing the sick and comforting the dying.
It was on the twentieth day of August when Captain Bartholomew Gosnold, one of the Council, died, and then Master Wingfield forgot all else save his own safety. More than one in our village declared that he was making ready the pinnace that he might run away from us, as if the Angel of Death could be escaped from by flight.
It was starvation brought about by sheer neglect, together with lying upon the bare ground and drinking of the river water, which by this time was very muddy, that had brought us to such a pass.
Save for the king, Powhatan, and some few of the other savages in authority, we must all have died; but when there were only five in all our company able to stand without aid, God touched the hearts of these Indians.
They, who had lately been trying to kill us, suddenly came to do what they might toward saving our lives after a full half of the company were in the grave.They brought food such as was needed to nourish us, [82] and within a short time the greater number of us who were left alive, could go about, but only with difficulty.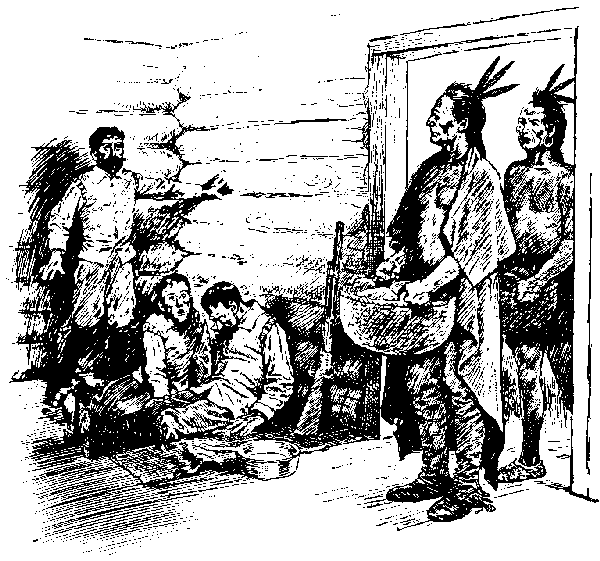 It was a time of terror, of suffering, and of close acquaintance with death such as I cannot set down in words, for even at this late day the thought of what we then endured chills my heart.
When we had been restored to health and strength, and were no longer hungry, thanks to those who had been our bitter enemies, the chief men of the village began to realize that my master had not only given good advice on all occasions, but stood among them bravely when the President of the Council was making preparations to run away.
| | | |
| --- | --- | --- |
| | Hundreds of additional titles available for online reading when you join Gateway to the Classics | |