THE RESULT OF THE VISIT
IT was more like a dream than a reality to be living in this colony of Maryland, and although the desire was great in my heart to see my mother once more, I was saddened when word was sent Jethro and me that on the morrow the journey back to Philadelphia would be begun.
As to the business on which we had come, I knew little regarding it, since, of course, it would not have been seemly in a lad like me to ask information from [160] my elders concerning affairs of state: but I heard enough as we journeyed, to understand that Lord Baltimore had not given way in any degree. He claimed most stoutly that our William had taken unlawful possession of what belonged to him, and even went so far as to say he should complain to the king.
These differences of opinion did not give any unpleasant color to our visit, however. When we marched down to the river, to take boat, his lordship carried our governor in his own coach, and his soldiers marched with us who were on foot, as if to show friendship.
[161] I wore on my left arm, where all might see, a knot of blue ribbon which Amy of Maryland had given me in token that I was to be her knight during the battle with the wilderness in Pennsylvania, and Jethro took it upon himself to make sport of it; but I soon gave him to understand that it would not be well to speak slightingly of the matter, if he and I were to remain friends.
The journey home was not far different from our going forth, and when we were come to Philadelphia, I forgot all the luxuries of Lord Baltimore's town in the joy of being with my own people once more. When a fellow has been absent from his mother, even for a short time, he comes to realize how dear she is to him, and what a blank world this would be to him without her. In all my life I was never so happy as when, after the governor had dismissed us with kindly thanks, I felt her dear arms around my neck, and her lips on my cheek as she thanked God I was come to her again.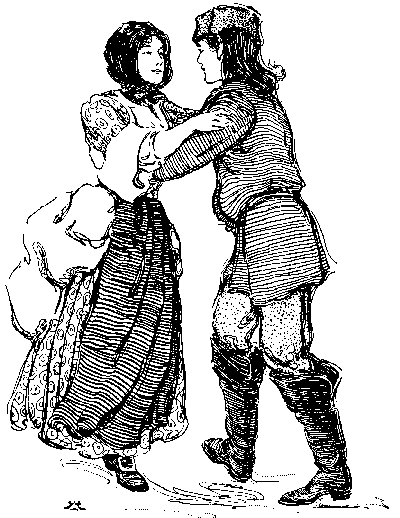 [162] After having been such a traveler, and strutted around a full day clad in father's finery, it was a bit hard to lay aside the borrowed plumes and bend my back to hard work.
| | | |
| --- | --- | --- |
| | Hundreds of additional titles available for online reading when you join Gateway to the Classics | |