Education in the Colonies

American History Stories, Volume I

by Mara L. Pratt

Stories of early exploration and founding of American colonies, conflicts over religion, and troubles with the Indians, culminating in the French and Indian War. Ages 8-12

168 pages

$9.95
EDUCATION IN THE COLONIES
[187] Governor Winthrop, the first Governor of the Massachusetts Bay Colony, had, living in England, a sister, of whom he was very fond. He often wrote letters to her and to her husband, who was also a warm friend of Governor Winthrop, begging them to leave the old country and come with their children to the new colony where there was more than enough of all the good things of life.
The sister, and her husband, too, would gladly have come, and indeed were often almost persuaded to do so; but they were very intelligent people for these times and prized education above all things.
On this account, because there were no [189] colleges in America in which her boys could be educated, she hesitated year after year.
Often she would write to her brother, saying that, by and by, when the little colony should have means for the education of her boys, she would gladly come. Another time she would write that she believed the value of education was above all things, and that therefore she must stay in England until the boys were educated.
All these letters set Governor Winthrop to thinking. Would it not be well for the colony to found a college? Surely there were other youth than his nephews who would be glad of a college education.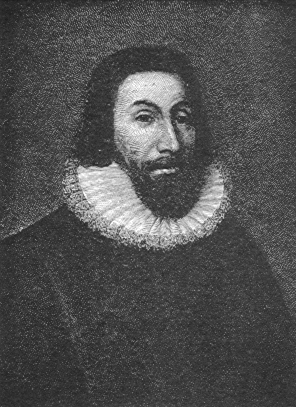 GOVERNOR WINTHROP
At last a letter came which seemed to set Governor Winthrop to work as well as to thinking. This letter, written in the early part of 1636, was but another appeal from his [190] sister for a college in Massachusetts. It is a quaintly written letter, spelled after the fashion of the times. In it she says, "If only there were some place of learning for youths, it would make me go far nimbler to New Englande if God should call me to it than I otherwise shoulde; and I believe a colledge would put noe smal life into the plantation."
In October of this very year, Governor Winthrop had convinced those who controlled such things in the colony that a college should be built. The money was raised, and work on the building was begun at once.
The college building, a square, red brick building, with low ceilings and little windows, was considered a very elegant structure at the time. It still stands on the college land in Cambridge, surrounded by the great brick buildings which have from time to time been added to it.
This will show you how much these early colonists thought of education. In fact, as early as 1635, only five years after the settlement of Boston, steps were taken to open a public school for the children of that town.
| | | |
| --- | --- | --- |
| | Hundreds of additional titles available for online reading when you join Gateway to the Classics | |