Builders of Our Country: Book II

by Gertrude van Duyn Southworth

A lively account of American history told through 31 biographies, beginning with Patrick Henry at the start of the Revolution and ending with Andrew Carnegie at the close of the 19th century. The biographies are so chosen as to acquaint the reader with the chief personages and events in our national life, by including many vivid pictures of each. Ages 10-12

319 pages

$13.95
LAFAYETTE
[93] IT is night in Philadelphia. In spite of their worries the members of Congress are in bed. Quiet is over all, and the only sound that breaks the stillness is the lagging footsteps of the drowsy watchman going his rounds. "One o'clock, and all is well!" he cries. "Two o'clock, and all is well!"
The minutes wear on. Then his ear catches a distant sound. He listens. Muffled at first, it grows nearer and nearer, louder and louder. It is the even hoof beats of a horse ridden at full speed. The rider comes in sight. "What news?" shouts the watchman. What news indeed!
His steps no longer lag. The tones of his voice are jubilant now, as he shouts from house to house, "Past three o'clock, and Cornwallis has surrendered! Past three o'clock, and Cornwallis has surrendered!"
Let bells peal! Let cannon boom! Speed the good tidings from man to man, from town to town, from colony to colony! Let all America know and rejoice that victory is ours!
Not many days behind the bearer of the glorious news, another man journeys from Yorktown to Philadelphia. He is young, tall, and slender. He is the French Marquis de Lafayette.
Four years before, at the very time when our future [94] looked the darkest, Lafayette came to America a boy of nineteen and offered Congress his services without pay. Loyally and well he has played his part in the Revolution. Now the hour of victory is come. America no longer needs his help, and his heart yearns for France. Congress gladly gives him leave to go. So journeying to Boston, he sails back to France; back to his young wife; back to all the luxury, position, and honor due his rank and wealth at home. All these lie left behind to take up arms in the cause of a stranger people's liberty; and to all these he returns, while that people exults in its triumph over oppression.
T

HE

M

ARQUIS

DE

L

AFAYETTE

WHEN

A

Y

OUNG

M

AN

.
Years go by. The United States of America adopts a constitution, sets up a government, and takes her place among the nations of the earth. Meanwhile, the Marquis de Lafayette passes through fortune and misfortune at home. Often his thoughts turn back to America and the countless friends his ready sympathy and generous ways won for him there.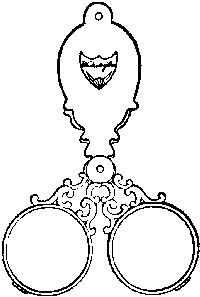 W

ASHINGTON

'

S

E

YE

-

GLASSES

, T

REASURED

BY

L

AFAYETTE

IN

M

EMORY

OF

H

IS

F

RIEND

.
In 1824 a welcome invitation comes. The United States bids him once more to her shores, this time as the guest of the American nation.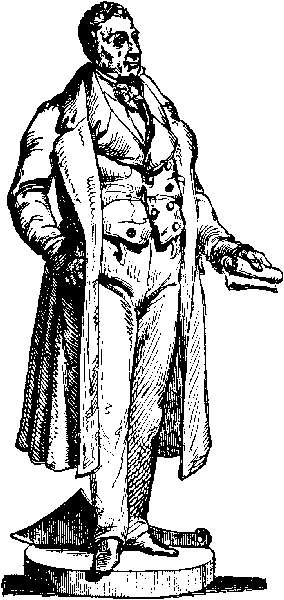 L

AFAYETTE

AS

H

E

A

PPEARED

IN

1824.
[95] In the man she greets again in this year of 1824, America still sees the youth who paid from his own purse for that first ship that brought him to take up arms against her foe. She has not forgotten how he used his wealth in her behalf; how the starving, ragged troops of Washington's army were fed, warmed, and clothed at his expense. She has not forgotten the wounds he received while bravely fighting at Brandywine. She has not forgotten his gallant behavior at Monmouth.
It was at Monmouth that Lafayette was given a trusted command. Washington sent him ahead in charge of the detachment that was to attack the British. But no sooner was he well away than Lee claimed the right to lead the advance and, overtaking Lafayette, deprived him of the com mand. Though bitterly disappointed, Lafayette accepted the conditions without complaint and fought his best under Lee's ill-starred orders.
Then did he not also have a hand in the final victory? He led Cornwallis a chase through Virginia until, reinforced, he was able to turn the tables, follow the enemy to Yorktown, and keep him there while Washington marched south.
The forty-odd years since the surrender of Cornwallis have in no way dimmed America's gratitude to [96] the French Marquis, and she rejoices in his return. In August he reaches Staten Island and spends the night there. The next day, gayly decorated ships come to escort him to New York. There he is welcomed by booming cannon, and cheering thousands follow his four-horse carriage through the streets.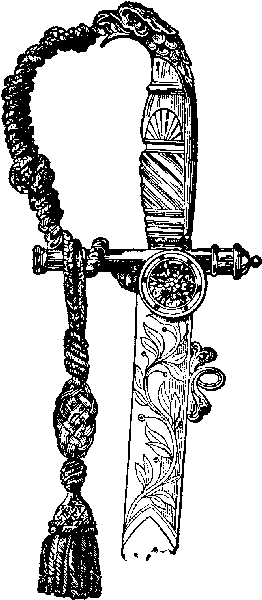 H

ILT

OF

THE

S

WORD

P

RESENTED

TO

L

AFAYETTE

IN

1824

BY

THE

N

INTH

R

EGIMENT

, N

EW

Y

ORK

S

TATE

A

RTILLERY

.
For over a year Lafayette stays in America. He travels through New England, through New York, to Philadelphia, to Washington, where the President welcomes him to the White House. He goes to Mount Vernon, although Washington, his revered friend, has long since died. He visits Yorktown and the South. He goes even to New Orleans and ascends the Mississippi River and the Ohio. What a difference between the thirteen struggling colonies and this fast growing nation! Can it be that one lifetime compasses it all?
Everywhere crowds line the roads to greet him. Everywhere he passes under arches raised in his honor, while each town and city vies in the length of its processions and the brilliancy of its balls and dinners. September, 1825, finds Lafayette in Washington, where he receives from Congress the gift of two hundred thousand dollars and two large tracts of land.
His visit is now near its end. The new ship Brandywine waits to carry him to France. And Lafayette sails down Chesapeake Bay while a grateful nation bids her guest God-speed.
| | | |
| --- | --- | --- |
| | Hundreds of additional titles available for online reading when you join Gateway to the Classics | |