READING-LITERATURE: First Reader

by Harriette Taylor Treadwell

Second volume in the series of Reading-Literature readers, whose purpose is to train children in reading and appreciating literature through the reading of literature. Contains thirteen of the best folk tales, of gradually increasing difficulty, and 33 of the best rhymes and jingles suitable for young children. Includes The Three Little Pigs, The Cat and the Mouse, The Bremen Band, The Straw Ox, The Town Mouse and the Country Mouse, Little Two Eyes, Little Half Chick, The Fisherman and His Wife, The Sheep and the Pig and others. Attractive black and white illustrations are appealing to children. Ages 6-8

126 pages

$8.95
<! Page 124>
Mary Had a Little Lamb
Mary had a little lamb,
Its fleece was white as snow,
And everywhere that Mary went
The lamb was sure to go.
He followed her to school one day;
That was against the rule;
It made the children laugh and play
To see a lamb at school.
And so the teacher turned him out,
But still he lingered near,
And waited patiently about
Till Mary did appear.
"What makes the lamb love Mary so?"
The eager children cry,
"Oh, Mary loves the lamb, you know,"
The teacher did reply.
-Sarah Josepha Hale.
<! Page 125>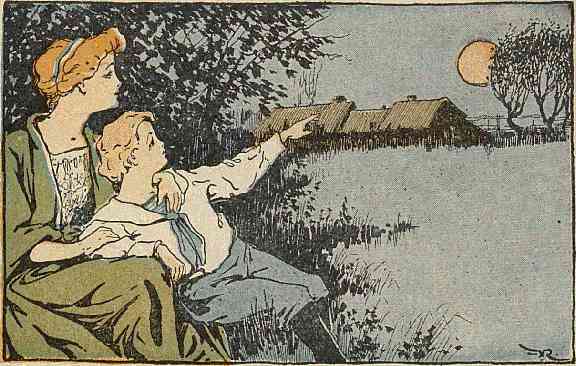 The Moon
O, look at the moon,
She is shining up there;
O mother, she looks
Like a lamp in the air.
Last week she was smaller,
And shaped like a bow,
But now she's grown bigger,
And round like an O.
-Mother Goose.
<! Page 126>
The Naughty Little Robin
Once there was a robin,
Lived outside a door;
He wanted to go inside
And hop upon the floor.
"Oh, no," said mother robin,
"You must stay with me;
Little birds are safest
Sitting in a tree."
"I do not care," said robin,
And he gave his tail a fling.
"I do not think the old folks
Know quite everything."
Down he flew, and kitty caught him
Quicker than a wink:
"Oh," he cried, "I'm very sorry,
But I did not think."
-Phoebe Cary.
<! Page 127>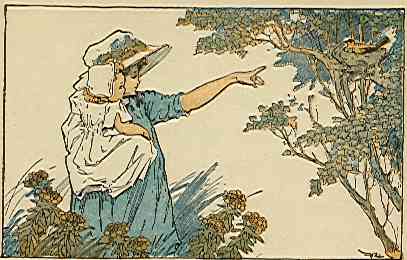 What Does Little Birdie Say?
What does little birdie say,
In her nest at peep of day?
"Let me fly," says little birdie,
"Mother, let me fly away."
"Birdie, rest a little longer,
Till the little wings are stronger."
So she rests a little longer,
Then she flies away.
-Alfred Tennyson.
<! Page 128>
Twinkle, Twinkle, Little Star
Twinkle, twinkle, little star;
How I wonder what you are!
Up above the world so high,
Like a diamond in the sky.
When the blazing sun is set,
And the grass with dew is wet,
Then you show your little light,
Twinkle, twinkle, all the night.
In the dark blue sky you keep,
And often through my window peep;
For you never shut your eye
Till the sun is in the sky.
And your bright and tiny spark
Lights the traveler in the dark,
Though I know not what you are,
Twinkle, twinkle, little star.
-Jane Taylor.
| | | |
| --- | --- | --- |
| | Hundreds of additional titles available for online reading when you join Gateway to the Classics | |