T h e B a l d w i n O n l i n e C h i l d r e n ' s P r o j e c t

Bringing Yesterday's Classics to Today's Children
@mainlesson.com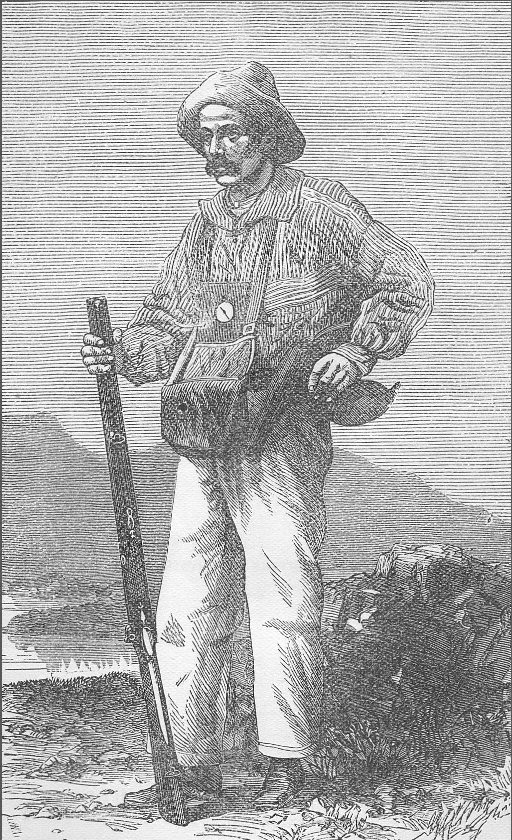 Paul du Chaillu
(1835 - 1903)
Paul Belloni du Chaillu (du shayí yu) was born in New Orleans, in 1835 into a French-American family. His father owned a trading depot off the coast of Gabon, and had friendly relations with most of the coastal tribes. After Paulís mother died at age fifteen, he accompanied his father on his travels to Africa and received his education from missionaries on the western coast of Africa, and there he met and befriended dozens of African natives. It was there that du Chaillu heard many of the stories of wild animals, strange tribes and curious customs said to exist in the interior of Africa, which filled him with a tremendous curiosity about this mysterioius region.
Paul returned the United States in 1853, and when his father died, he was well-prepared to inherit his fatherís prosperous trading business, being already familiar with the coastal tribes and languages. Instead however, he decided to become an explorer. The equatorial regions of Africa were at that time entirely unknown, no white man having ventured more than a mile inland. The area was so dangerous and inhospitable for Europeans that it was known as "The white manís grave". Du Chailluís parents were both dead (and so couldn't object); he was more or less inured to the harsh climate, was on friendly terms with the natives, fluent in their language, and had already accompanied some of them on short term hunting expeditions in the interior. He believed this gave him a unique ability to do what no white man had ever done, a systematic exploration of the interior of equatorial Africa.
So in 1856, at the age of 20, he set out for an extended exploration of Africa, and set up a base village on the shore of the Fernand Vaz River (one of the outlets of the Ogoove). From there he traveled extensively over a region extending more than 300 miles inland from the coast. He studied plant and animal life, tribal customs, geography, and collected samples of dozens of unknown species. He made maps, went on hundreds of hunting expeditions, lived in native villages, learned several new inland languages, spoke with the natives about their beliefs and customs, and kept careful records of all his observations. He was the first white man to hunt gorillas, and many other unique species of fauna, and the first to have contact with any of the inland tribes. He continued his explorations for over three years, at which point all of his supplies were completely exhausted. He returned to the United States in 1860 and wrote his first book, Explorations and Adventures in Equatorial Africa, (1861). His book was so full of astounding adventures and queer customs that it was met by disbelief by many people, until his findings were substantially confirmed by later explorers.
"I traveled—always on foot, and unaccompanied by other white men—about 8,000 miles. I shot, stuffed, and brought home over 2,000 birds, of which more than 60 are new species, and I killed upwards of 1,000 quadrupeds, of which 200 were stuffed and brought home, with more than 60 hitherto unknown to science. I suffered fifty attacks of the African fever, taking, to cure myself, more than fourteen ounces of quinine. Of famine, long-continued exposures to the heavy tropical rains, and attacks of ferocious ants and venomous flies, it is not worth while to speak."—Paul du Chaillu, Explorations and Adventures in Equatorial Africa
Du Chaillu had even greater things planned however. At the end of 1863 he returned again to Africa, fully equipped for an even more ambitious expedition. This time he intended to cross the interior of equatorial Africa on foot, with a band of about a dozen native porters. This expedition however, was beset with difficulties, and he was obliged to return to the coast after only two years. He returned to America, and in 1867 wrote his second book A Journey to Ashango Land.
After publishing this second book he spend the next five years (1867-1871) writing a very exciting series of adventure books for young people based on his travels, complete with carefully crafted illustrations. The first two books, Stories of the Gorilla Country and Wild Life Under the Equator, recount various episodes from his years in Africa, including both of his major expeditions as well as his teenage years. His two subsequent books, Lost in the Jungle and My Apingi Kingdom, give a chronological account of his first expedition, and the fifth book, The Country of the Dwarfs, deals exclusively with his ill-fated second expedition.
After returning to the United States and writing his books, Du Chaillu never chose to settle down, but continued to travel. He spent the next few decades traveling extensively in Sweden, Norway, Lapland and Finland. He coined the phrase "Land of the Midnight Sun", which was the name of one of his major works on his northern explorations, the other being The Viking Age. (1889). He wrote only one book for children regarding his northern travels, The Land of the Long Night (1899). He died in St. Petersburg, Russia in 1903.
"In such a wild country as Africa one does not go far without adventures. The traveler necessarily sees what is strange and wonderful, for every thing is strange."—Paul du Chaillu, Stories of the Gorilla Country
There are two aspects which makes du Chailluís books so unique and delightful for young people. First, is that he is an eyewitness to all that he reports on, rather than an interpreter of other's tales. Second, he appears to have been motivated entirely by love of adventure and curiosity. He did not undertake his explorations to become wealthy, but rather gave up a prosperous trading opportunity already in hand, and placed himself continually in harm's way. He did not spend time in universities absorbing academic theories about Africans, but rather learned, first hand, from the Africans themselves. He writes always with enthusiasm and interest, even when reporting on distressing events and circumstances. He tells stories of encounters with bugs, serpents and scorpions with as much relish as his many escapades with gorillas, buffalo, and elephants, and his varied stories of encounters with the natives themselves, span the full range from abject horror to delight and admiration.
Because of the drama and entertainment value of his accounts, du Chaillu was better known as a story teller than as a serious historian, although his scholarship and contributions to the fields of geology, zoology, and anthropology, were no less than first rate. Some have claimed that he was the inspiration for the character Tarzan, and it is obvious that Burroughs was at least passing familiar with his work. Based on some of du Chaillu's accounts of his pet chimpanzees, a case could even be made that he was an inspiration for the authors of Curious George. It is certain that his works helped popularize the idea of "big game hunting" early in the 20th century. It would be difficult to find another author of Children's books whose own life was so rich in adventure and discovery.

Copyright (c) 2000-2018 Yesterday's Classics, LLC. All Rights Reserved.