T h e B a l d w i n O n l i n e C h i l d r e n ' s P r o j e c t

Bringing Yesterday's Classics to Today's Children
@mainlesson.com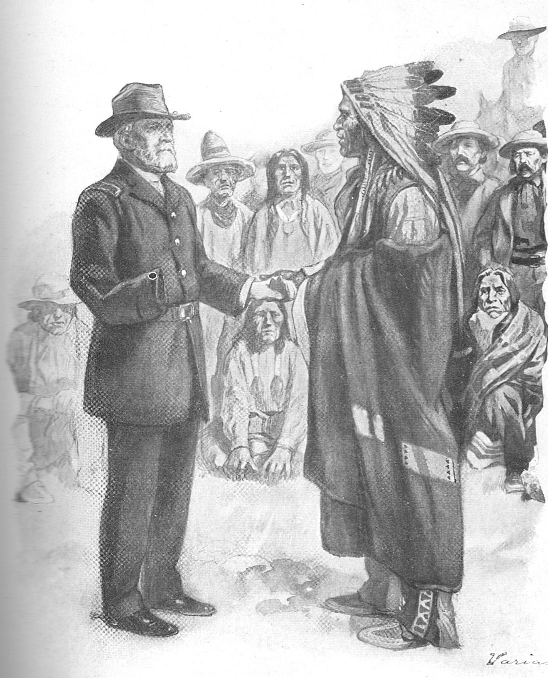 Oliver Otis Howard
"O. O. Howard"
(1830 - 1909)
General Oliver Otis Howard (1830-1909) was a highly regarded officer in the U.S. Army. He was a graduate of the U.S. Military Acadamy and taught mathematics at West Point before the outbreak of the Civil War. During the war he was commissioned as a colonel, and fought for the Union at the Battles of Chancellorville and Gettysburg. During the war he was promoted to General, and he lost his arm at the battle of Fair Oaks.
Soon fter the war, Howard became director of the Freedmanís Bureau, which had the commision of promoting the welfare of the freed slaves, and other war refugees. It was in this position that he help found the Institute for the Education of Preachers and Teachers, in Washington D.C., which was later renamed Howard University, in honor of him.
In 1874 Howard was reassigned to Indian Affairs, and traveled West to Fort Vancouver in Oregon. There he was in charge of resolving problems between the white settlers and the Indian natives, and in this role met and negotiated with Indian Chiefs throughout the Western States. Although most of his dealings were peaceful, he is best known for leading the war against the Nez Perce, and forcing the surrender of Chief Joseph. In his dealings with Indians he sincerely tried to protect the peaceful Indians from the worst abuses of the White Settlers, but believed that peace was only possible if the Indians who would not live according to the white manís customs, retired to reservations.
He spent the final years of his career as superintendant at West Point, and retired in 1894, after serving over 40 years in the U.S. Army. From this time until his death, he wrote several books, including general interest biographies of General (Zachary) Taylor, and General (William Tecumsah) Sherman. Surprisingly, he also wrote a biography of Isabella of Castille, a woman whom he greatly admired.
He wrote only one book specifically for children, entitled Famous Indian Chiefs I Have Known, but he did write several other books about his experiences with the indians, including Nez Perce Joseph, and My Life and Experiences among Our Hostile Indians. He also wrote his Autobiography.

Copyright (c) 2000-2018 Yesterday's Classics, LLC. All Rights Reserved.