T h e B a l d w i n O n l i n e C h i l d r e n ' s P r o j e c t

Bringing Yesterday's Classics to Today's Children
@mainlesson.com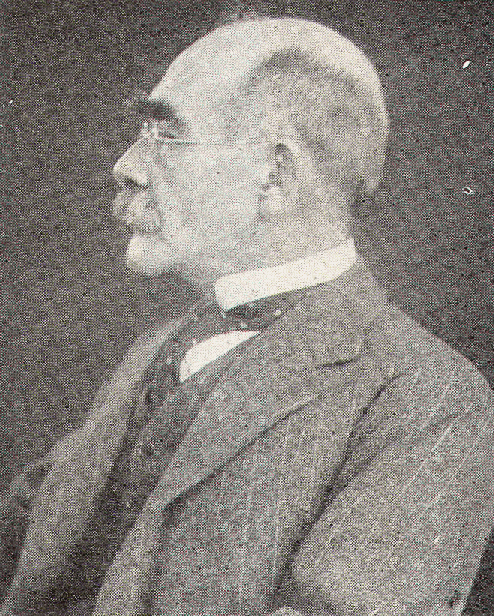 Rudyard Kipling
(1865 - 1936)
Author biography from the Junior Book of Authors, 1935; courtesy of the H.W. Wilson Company
During the first few years of his life, Rudyard Kipling lived in the exotic city of Bombay, India, where the streets are filled with bazaars, shrines of Buddha, and white-robed Hindus. Most of his time was spent with the dark ayahs, or nurses, who taught him to speak the native language and to repeat the native tales about the jungle animals. These tales made a lasting impression upon him.
He was born in Bombay, the son of an artist who taught in the Bombay Art School. His English parents had met at a picnic on the shores of Lake Rudyard in England.
When Rudyard was six years old he was sent to England to be educated but, because of poor health, he lived for five years in the care of the wife of a retired naval officer in Portsmouth and did not go to school until he was eleven. Then he was placed in the United Service College, known as "Westward Ho!" in north Devon, where his classmates were mostly the sons of British civil or military men stationed in India. His first book—privately printed by his parents while he was a student—was a paper-covered pamphlet entitled School-boy Lyrics. During his last two years in school he was editor of the U.S.C. Chronicle. Upon graduation he was given the choice of going to college or returning to India. He chose India.
His father, John Lockwood Kipling, had meanwhile moved from Bombay to Lahore, India, where he was director of the Lahore Museum, and it was to this city that Rudyard went. Here, at the age of seventeen, he became assistant editor of the Lahore Civil and Military Gazette. Through his position he had entree into the highest social and political circles of the city and, although he lived with his parents, he had his own servants, his dog-cart, his friends, his club, and an interesting and attractive independent life. As filler for the columns he frequently wrote verses which became so popular that he was urged to publish them in book form. He did so, setting up the book after hours, with the help of the staff printers. The short stories and sketches of Indian life which he wrote for the paper were also made into a book. These two volumes brought him a great literary reputation in India, which eventually spread to England.
After four years on the Civil and Military Gazette, he joined the staff of the Allahabad Pioneer. For three years he traveled widely, living with the army men on the frontier and covering special assignments for his paper. Then he left India for England by way of China, Japan, and the United States, taking with him a trunkful of stories. In London he wrote furiously in a dingy lodging near the river, with scarcely enough to eat, until the public suddenly found in his stories "something different" and his fortune was made.
A famous author at twenty-six, he married an American girl, Caroline Balestier, who was the sister of Wolcott Balestier, with whom he had collaborated on a story. He went with his bride to live in her native city, Brattleboro, Vermont, in the United States. Here two of their children were born and here he wrote several of his most famous books. The babies in his nursery were the first to hear the animal stories of The Jungle Book and The Second Jungle Book, in which appear Baloo the bear, Bagheera the panther, Akela the wolf, Shere Khan the man-eating tiger, and the other beasts of India which Kipling had known since boyhood, you remember. Another book written for his children was Just So Stories, telling in a wise and humorous fashion just how the elephant got his trunk, where the camel got his hump, and so forth.
The ways of the New England fishermen, which Kipling had ample opportunity to observe, suggested Captains Courageous, the story of an American millionaire's son, washed off the deck of an ocean liner, picked up by a fishing schooner, and forced to share the life and labor of the crew.
After four years in America, Kipling took his family to Africa for a visit, then settled in England in a quiet little Sussex village, Rottingham-near-the-Sea. Spending most of his time out of doors, he rode three hours every morning and in the afternoons was often to be seen tramping over the Downs regardless of weather. Here he wrote Stalky and Co., a story based on his eventful school life at "Westward Ho!" (He is "Beetle" in the story.)
Kipling revisited America briefly a few years later and lay at the point of death for weeks in a New York hotel while the people of two nations followed the daily reports of his illness. He pulled through and, returning to England, settled permanently in an ancient farmhouse known as Bateman's, not far from the village of Burwash, in Sussex. About this time he brought out Kim, the popular story of an orphan raised among the Hindus and reminiscent of his early life in India. The countryside around Batesman's inspired him to write Puck o' Pook's Hill and Rewards and Fairies for the amusement and education of his children. Puck's hill is just above his house and the chalk Downs are not far away. In this fairy setting, Puck tells Dan and Una of the deeds in England's historic past.
Kipling was too busy enjoying the companionship of his children and his fishing rod and his dogs to pay much attention to the Nobel Prize for Literature which was awarded to him in 1907 or to the many other high honors that were heaped upon him in the succeeding years. During the World War his only son was killed and since then he has written little for publication, remaining in quiet seclusion at Bateman's. There is no telephone in his home and he can enjoy his pipe and a wood fire in his Elizabethan living room undisturbed. He seldom ventures forth except to take brisk walks in the countryside, clad in Norfolk jacket and knickers.
He is a rather short, slight man with gray moustache, firm chin, bald head, bushy black eyebrows, and glasses.
Kipling's verses, though not great poetry, are quoted almost as often as Shakespeare and the Bible. Young people are especially familiar with "The Ballad of East and West," "If—" and "Gunga Din," all of which are included in Songs for Youth, the authors own selection of his poems best suited to boys and girls. They also appear, along with all the other poems he has written, in the Collected Verse of Rudyard Kipling.

Copyright (c) 2000-2018 Yesterday's Classics, LLC. All Rights Reserved.