T h e B a l d w i n O n l i n e C h i l d r e n ' s P r o j e c t

Bringing Yesterday's Classics to Today's Children
@mainlesson.com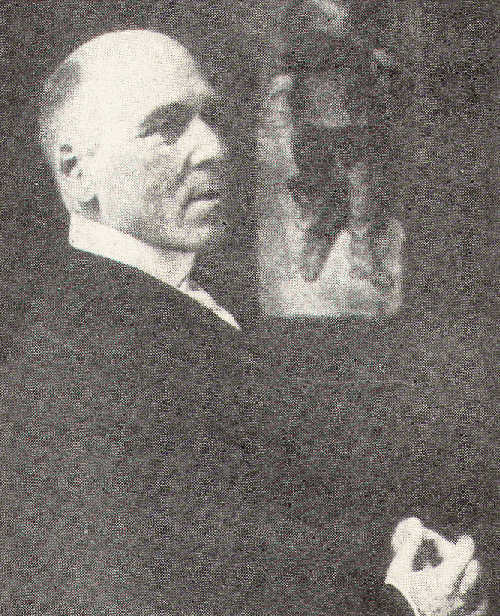 Howard Pyle
(1853 - 1912)
Author biography from the Junior Book of Authors, 1935; courtesy of the H.W. Wilson Company
Once when Howard Pyle was a young man struggling to become an artist in New York, he found himself with only five cents in his pockets.
With the help of his father, a moderately well-to-do Quaker leather-merchant of Wilmington, Delaware, he had been studying in the great city for almost two years; working fairly industriously at his drawing, enjoying the social life of the city, and selling an occasional sketch to some magazine—but not earning nearly enough to support himself without the money from home. Then, six weeks before, he had received a letter from his father, telling him that because of business reverses his monthly allowance would have to be cut off, and advising him kindly but firmly to forget about his artistic ambitions and enter the business world, where he could at least make a living.
This was sobering news indeed for young Pyle. He determined, however, to make one more attempt to succeed as an artist. So, setting his jaw and shutting himself up from all friends and amusements, he slaved steadily for six weeks on one drawing, a dramatic scene within a lighthouse, which he called "Wreck in the Offing!" The day that it was finished was the day that he reached his last nickel, so he walked from his garret studio to the offices of Harper's Magazine some miles away—only to learn that the art editor was out of town and that he must leave the picture for two days before he could learn the verdict.
For two days he went without food, ever refusing invitations from friends in his pride, and finally trudged back to the magazine offices, weak with hunger and suspense. He took one look at the editor's face and his heart sank; but then to his great surprise came the glorious news—that the picture would be used as the cover on the next Harper's and that he would be paid not the fifteen dollars he had scarcely dared to hope for, but seventy-five! This, he always said in later years, was the turning point of his career. As everyone knows, he went on and ahead to become one of America's greatest illustrators and an author of unusual merit as well.
Howard Pyle was born just outside of Wilmington in a rambling old stone house which had been added to so many times that it was really three separate but connected houses. As a boy he was quite, sensitive, and dreamy and loved nothing more than to weave splendid tales of adventure in his imagination and tell them to his laymates. He began to draw at an early age. In school he was a very poor student. He was bright enough and liked to read immensely, but when he was supposed to be studying other subjects, he was scribbling stories and drawings on his slate and the margins of books.
This tendency worried his parents, who wished him to go to college. But he could never learn his lessons well enough to pass the entrance examinations. So it was decided that he should work part of th time for his father (whose financial set-backs had already begun), and study art in nearby Philadelphia.
As his drawing improved with practice, so did his writing, and when he was twenty-three he had some literary sketches, illustrated by himself, accepted by Scribner's Magazine. One of the editors took a fancy to his work and urged him to come to New York to study, assuring him that Scribner's could assign him enough work to make a living. So he set off and enrolled in the Art Student's League, but the assignments as Scribner's did not materialize. This, as he himself said later, was fortunate. Otherwise, it would have been too easy to "just get along" and he might never have discovered the necessity and value of hard work for real success. We have already seen how he learned that lesson.
From the time that Harper's accepted "Wreck in the Offing!" his career was on the upgrade. Soon his work was in demand by the leading magazines, but he remained in New York some years to study. Finally, when he felt that he had learned all that he could from art schools, he went back to Wilmington where he married and raised a family and spent most of the rest of his life drawing and writing. In 1910 when he was fifty-seven he went to Italy where he wished to study the work of the old masters to fit himself for mural painting, with which he intended to crown his career. But this was not to be, for he died abroad the following year.
It is difficult to say whether Pyle is better known as an illustrator or as a writer. Just as his pictures have made olden times live again, so have his tales of romance, chivalry, and high adventure delighted countless thousands of young people. In both his pictures and his writing he was above all else a story-teller, with an eye for the colorful and dramatic.
In person he was a friendly, gentle, and kindly man. Though he became bald at an early age, and at first glance seemed older than he was, those who knew him say that he never grew up and that his blue eyes sparkled like a boy's until the very end of his life. He was deeply religious; patriotic, devoted and loyal to family and friends, and especially full of sympathy for young artists. After he became independent financially he established an art school to which he admitted, without tuition fee, students of exceptional talent.
Some of Howard Pyle's best known books, all illustrated by himself, are The Book of Pirates, The Merry Adventures of Robin Hood, Men of Iron, Otto of the Silver Hand, and the "King Arthur Series" (four volumes).

Copyright (c) 2000-2018 Yesterday's Classics, LLC. All Rights Reserved.