Introducing Children to World History Using James Baldwin's Books
For introducing children ages 6 to 9 to historical figures, no books are better than these books of stories admirably retold by James Baldwin at the beginning of the last century. Thousands of children enjoyed reading these stories at the beginning of the 20th century and now today's children can delight in them as well.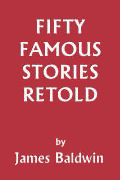 Fifty Famous Stories Retold includes fifty legendary tales depicting certain romantic episodes in the lives of well-known heroes and famous men, or in the history of a people. Children naturally take a deep interest in such stories. The reading of them will not only give pleasure but will lay the foundation for broader literary studies, since nearly all are the subjects of frequent allusions in poetry and prose, and in the conversation of educated people. Children will enjoy having these stories read to them first, then will return to read them themselves as their independent reading skills mature.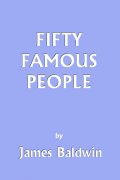 Fifty Famous People, a companion volume to Fifty Famous Stories Retold, offers stories about real persons who actually lived and performed their parts in the great drama of the world's history. Some of these persons were more famous than others, yet all have left "enduring footprints on the sands of time," and their names will be long remembered. Though not strictly biographical, each of the stories contains a basis of truth and an ethical lesson which cannot fail to have a wholesome influence. Each also possesses elements of interest that will delight the children with whom it is shared.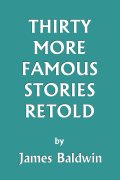 For older children, ages 7 to 9, Thirty More Famous Stories Retold offers thirty more stories in a similar vein. Reading these stories with a more advanced vocabulary and more extensive plot, children gradually become accustomed to following a longer narrative.
These three books are now available in high-quality paperback editions from Yesterday's Classics, the publishing arm of the Baldwin Project. The text in the books is set in modern easy-to-read type in blank ink on cream interior paper, with sturdy full-color covers. Delivery for these print-on-demand paperbacks typically takes 1 to 2 weeks.