Choosing a History of Ancient Greece
The Baldwin Project currently offers five different comprehensive histories of ancient Greece, two of which have been republished through Yesterday's Classics. Although they all cover the same basic period, there are important differences in their styles, and in the audiences to whom they are directed.
The most basic introduction to Greece, readily accessible to grammar school children, is Haaren and Poland's Famous Men of Greece. Assuming no prior knowledge of Greece, it introduces most of the important gods, heroes, and legends, before relating the lives of Lycurgus and Solon, the early law-givers of Sparta and Athens. Famous Men of Greece introduces history through biographical sketches. The stories continue through the Golden Age of Greece, and on into the Macedonian era, ending in 168 B.C. when Greece was incorporated into the Roman Empire. (280 pages, ages 9-12)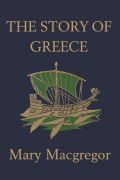 Mary Macgregor's The Story of Greece is also written at a level that is accessible to older grammar or middle school students, but it takes a different approach. Macgregor's work is broken up into over 100 short chapters, each of which details a certain person or incident in Greek history. It presents in story form virtually all of the major events and persons of Greek history. Although the Macgregor book is the largest of the introductory level spines, it covers Greek history only until the death of Alexander, due to its fuller treatment of the Golden Age of Greece. (506 pages, ages 10-14)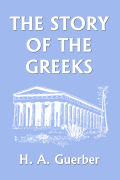 H. A. Guerber's The Story of the Greeks is similar to the Macgregor book in that it is a continuous chronological narrative focusing on both the characters and events of ancient Greek history. Where Macgregor's treatment is more romantic, Guerber's is more matter-of fact. As a result the length of the Guerber book is about two-thirds the size of the Macgregor book. In short chapters it covers the history of Greece from ancient times all the way to the fall of Greece, including the time after the death of Alexander which Macgregor omits from her history. Since it is more concise, Guerber may be the better choice for the student who is studying both Greece and Rome in a single year, while Macgregor might be the better reference for an entire year dedicated to Greece. (365 pages, ages 10 to 14)
Although Eva March Tappan's The Story of the Greek People is about the same size and reading level as Guerber, it takes a different approach to presentation of the material. Tappan's narrative includes more social history, and references to great works of art and literature. Because of the more comprehensive approach, Tappan's biographical sketches are not as vivid as in some of the other books, but she is more likely to explain far-reaching outcomes and relate incidents in Greek history to modern times. Tappan's book has only 20 chapters, and includes study questions at the end of each. (250 pages, ages 9-14)
Unlike the other books that are directed toward younger students, Charles Morris's Historical Tales: Greek was composed with older teens or young adults in mind. Written in an engaging style, it tells 38 of the most important stories in Greek history. Although Morris does put his stories in context, he does not attempt a comprehensive history, but rather, develops each of his stories in much greater detail than any of the other histories listed. Instead of just an outline of important points, and major characters, it is filled with descriptive anecdotes, elaborate plot turns, and secondary characters that bring Greek history to life. The Morris book is especially recommended for adults who missed Greek history in their own schooling and would like to learn about it now. (500 pages, ages 15 to 99)
Although each of these history books of ancient Greece could be read in just a few sittings, the amount of information each contains is so great that we recommend for most students a moderated pace so that they have time to review and absorb the material through a slow and careful reading of it.
In addition to these comprehensive histories, the Baldwin Project offers many other books relating to Ancient Greece, including biographies, legends, adapted literature, historical fiction, mythology, and more at Books for Ancient Greece.